Projects and Plans
Hand-Built Home for Hand Tools
Cut nails and a clever lid clinch a traditional Japanese toolbox.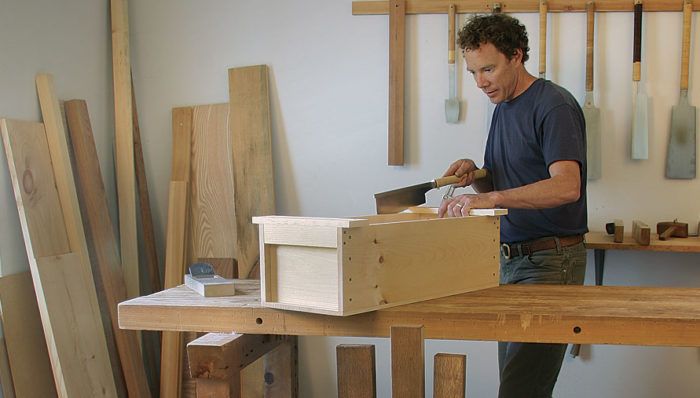 Synopsis: A traditional Japanese toolbox with a simple design provides a practical, durable, stackable home for hand tools. Andrew Hunter built his using nothing but hand tools, but it also can be made with power tools. This one has a sliding lid, inset ends that make for strong joints and also provide handholds, and dadoes and screws to hold it together. Once made and filled with tools, this box will last as long as you do.
---
Japanese carpenters are renowned for the sophistication of their wooden joinery, yet they typically build toolboxes of the simplest sort. A traditional Japanese toolbox, butt-joined or dadoed and nailed together, speaks of utility and practicality. It is durable, stackable, and eminently portable. Although I favor utilitarian toolboxes, I relate to the impulse to make a special project out of creating a home for beloved tools— that's why I build my boxes with hand tools. I still look with pride at the resaw marks on the underside of the lid on my original toolbox, made when I was just starting out and absorbing all I could from Toshio odate's book, Japanese Woodworking Tools: Their Tradition, Spirit and Use (The Taunton Press, 1984). I used odate's toolbox as a model for my own. The sliding lid provides a strong, satisfying closure, and when removed, is a convenient place to lay out tools for the work at hand. And the inset ends of the box make for stronger joints while also providing handholds. As I've built more boxes over the years—for toys as well as tools—I've stuck with the original design. I've been tempted to add some furniture-level joinery, but my original nailed toolboxes, going on 15 years old now, are holding up fine and I really like the way they look, so I've stayed with the traditional nailed joints.
I built my latest box with a 12-ft.-long 1×12 of white pine—and a thicker scrap for the handles. Although the 1×12 came from my hardware store milled 3 ⁄4 in. thick, it was far from true, so it required jointing and thicknessing. That was fine, because even in my largest boxes I find that parts a full 3 ⁄4 in. thick look chunky. As with other projects in white pine, I gave this box a hand-planed surface and left the wood untreated, letting it acquire a patina over time.
From Fine Woodworking #257
To view the entire article, please click the View PDF button below.
View PDF