Projects and Plans
Build a Clever Countertop with Storage Below
Smart design reduces clutter and expands your work area.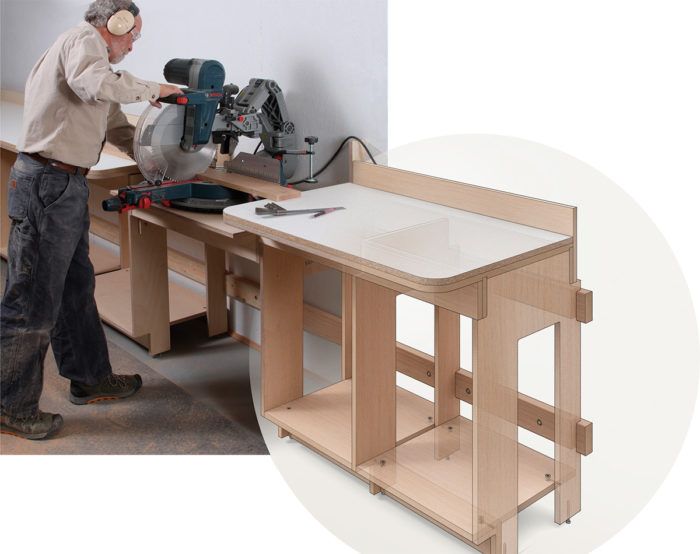 Synopsis: This long work counter spans an entire wall and has storage underneath. Beneath the spacious top is a clever leg design that maximizes the yield from a sheet of plywood—eight legs from one sheet—and minimizes how much muscle it takes to install the countertop. One woodworker can install it without help. It's also easy to level. The shelves drop in after the legs and subtop have been installed.
---
In a woodworking shop, counter and storage space are a lot like clamps: You can never have too much. That's why when I built my new basement shop, I reserved an entire wall for a long work counter with storage beneath it. I intended to build and install this counter by myself, so I designed a countertop and base that I could make and install without help. My other goal was to minimize the amount of material needed to build them.
This counter was not going to be built like the floor cabinets in a kitchen. The big plywood boxes used in kitchens require a lot of plywood and are heavy and cumbersome—a bad combination for a one-man crew. so instead of boxes beneath the counter, I decided to use legs. But legs carry their own problems: They can be tricky to level on a sloped floor (and many shops have one), and they need aprons to support the countertop, which requires joinery of some sort.
To overcome these challenges, I devised a simple plywood leg shaped like an inverted U. This shape works because it gives you a pair of legs with a horizontal edge to support the countertop without the need to cut any joinery screws driven into the bottom of each foot allow the legs to be leveled individually.
The bays between the legs are the perfect blank canvas for storage. You can add shelves or drawers to them, or even leave them open to make room for bins, toolcases, and other bulky items. on top of it all is a dead-simple countertop made of melamine-faced chipboard—a tough but affordable surface.
Make legs quickly and accurately with a template
The U-shape of the leg is advantageous when it comes to materials, too. The shape allows you to get two legs out of a piece of plywood 24 in. wide by 48 in. long with very little waste. That's eight legs from a full sheet, and a smart way to maximize your materials.
For the countertop to go together easily, square, and level, it's important that all the legs beneath it are identical. Variations in the notches for the subtop support beams, for example, could throw the top out of level or make it wavy instead of flat. This is why I used a template to lay out each leg (screw it to the plywood before tracing).
After laying out the legs—two nestled in each quarter sheet of plywood—you can cut them out with a jigsaw. The template helps with the cutting, too. Just split the waste between legs, screw the template back to the leg, and rout it flush to make identical legs.
From Fine Woodworking #251
To view the entire article, please click the View PDF button below.
View PDF