Projects and Plans
Build a Folding Table Saw Outfeed Table
Steve Fikar's space-saving mobile support can handle big jobs, too.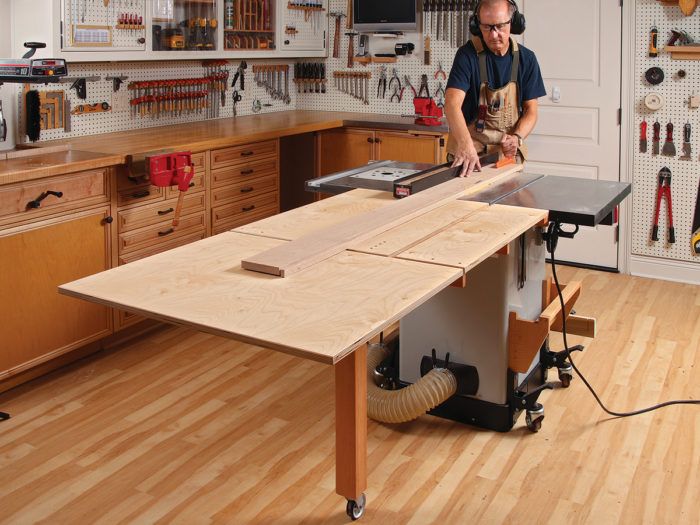 Synopsis: An engineer by trade, Steve Fikar dealt with the challenge of building an outfeed table with a small footprint that would fit easily into his shop. His design is compact, but can support workpieces up to 10 ft. long, thanks to a folded extension that flips up. A strong, adjustable single leg offers plenty of support and can be raised and lowered from above the table.
---
After 40 years of moving around—thanks to military life and job commitments— my wife and I settled down on Florida's Gulf Coast and finally built our dream home. That home includes the woodshop I've been designing for decades, filled with all of the ideas I'd saved.
Although my shop is dreamy too, it has a somewhat small floor plan, which puts a premium on space and mobility. But I'm an engineer by trade, and I enjoy opportunities for problem solving. Here I'll show you how I solved my outfeed table problem.
While a large outfeed table is nice to have and adds another large work surface to the shop, I needed one with a small footprint for daily use. I came up with a compact design that packs a big punch—thanks to a folded extension that flips up in seconds to support workpieces up to 10 ft. long.
Along the way I realized that the table didn't have to be as wide as my saw to do its job, so I made it a bit narrower. That meant I really only needed one strong leg to support it. And since I move the saw around regularly on casters, I put a caster on the support leg too.
That left the problem of uneven floors. A mobile outfeed table might line up level with the saw in some areas of the shop but tip up or down in others. This is where I really had some engineering fun, coming up with an adjustable leg that can be raised and lowered from above the table.
I absolutely love my new outfeed table. It flips up, rolls, and adjusts easily, and has the small footprint I was looking for. Made from 3/4-in. Baltic-birch plywood and clear, solid fir, it looks great too.
Fixed table is the foundation
This project starts with the tabletop, which is made from two pieces of plywood, joined with a standard piano hinge. The fixed section is attached to the tablesaw, and anchors both the support leg and the flip-up extension. It's the foundation for everything else, and there is important work to do on it before attaching the flip-up section.
From Fine Woodworking #286
To view the entire article, please click the View PDF button below.
---
View PDF