Projects and Plans
A Workbench 30 Years in the Making
Hand-tool expert Garrett Hack designs his second bench, based on everything he's learned.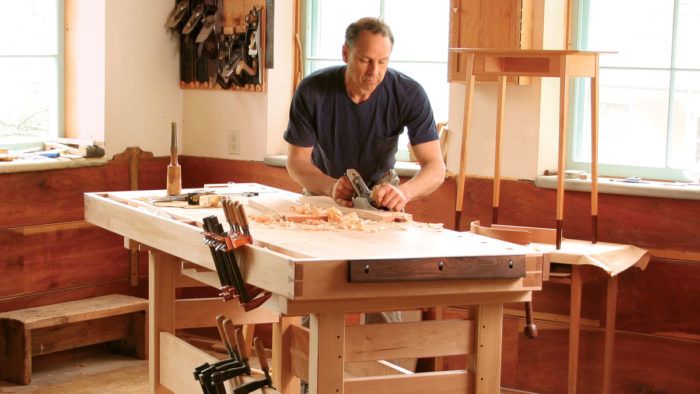 Synopsis: There is 30 years of woodworking experience built into this bench, with its large top, solid base, and multiple ways to hold work. That's because Garrett Hack has been thinking about what he'd put into a new workbench almost since he built his first one. This version has a beefy trestle-style base constructed with mortise-and-tenon joints, a sturdy tongue-and-groove top with big breadboard ends, and lots of ways to hold work: a front vise and a tail vise, used in tandem with benchdogs and a holdfast, and a sliding stop at one end.
---
When I built my first bench well over 30 years ago, I had limited furniture-making experience, so I adapted the design from some benches I had used in various classes. That first bench has been a solid friend in the shop for many years. But as my experience level increased, I kept a mental list of improvements I'd make if I were to build a new one. I recently said as much in a lecture at Colonial Williamsburg, and Fine Woodworking decided to pay me to stop procrastinating.
Over the years, I've developed a love of hand tools. I use them in every aspect of furniture making, and details made with these elegant tools are a signature of my work. so my first priority was to make the new bench better suited to my hand-tool habits.
What makes a bench work
In building this bench, I wanted a tool that would withstand the daily stresses heaped upon it, and the materials and design reflect that approach. A bench can be fashioned with humble materials (any dense and stable hardwood will do) and basic joinery and work very well.
Add beef—The benchtop is big enough to clamp a large case piece in almost any arrangement, with room for many tools, and it's thick and sturdy. The base of the bench can hold a heavy load (the top weighs more than 200 lb.), but more importantly, it's rigid enough to withstand the racking forces created by handplaning.
At 35 in. tall, my bench will work for a wide range of tasks, from handwork to machine work to assembly jobs. But I'm over 6 ft. tall. You may have to experiment to find a comfortable height.
Lots of ways to hold work—Because I do a lot of handwork, I need surefire ways to hold workpieces. In my experience, the best tools for the job are a front vise and a tail vise, used in tandem with benchdogs and a holdfast. Finally, I added a sliding stop at the left end. It can be set high or low and is useful for planing panels, thin drawer bottoms, tabletops, or multiple parts.
Build the top on a pair of strong horses
The top looks like a bunch of 12/4 planks glued together, but it's actually three layers of 1-in.-thick boards. This design is very stable so it will stay flat, and it's an economical way to use materials. I used hard maple, yellow birch, and beech, dedicating the best of the maple to the top layer and the breadboard ends, and using narrower and somewhat lower-quality material for the middle and bottom layers. Glue up the top one section at a time. To make the job less stressful, I recommend Unibond 800, a slow-setting urea-formaldehyde glue (www.vacupress.com) typically used in vacuum veneering.
From Fine Woodworking #209
Take a tour of the bench and its features in a companion video
For the full article, download the PDF below:
View PDF
Get the Plan
Digital plans, a cutlist, and a SketchUp drawing for this project are available in the Fine Woodworking store.
Buy The Plan