Projects and Plans
New-Fangled Workbench
With six pipe clamps and some dressed framing lumber, you can make an inexpensive bench that's as versatile as a Swiss Army Knife.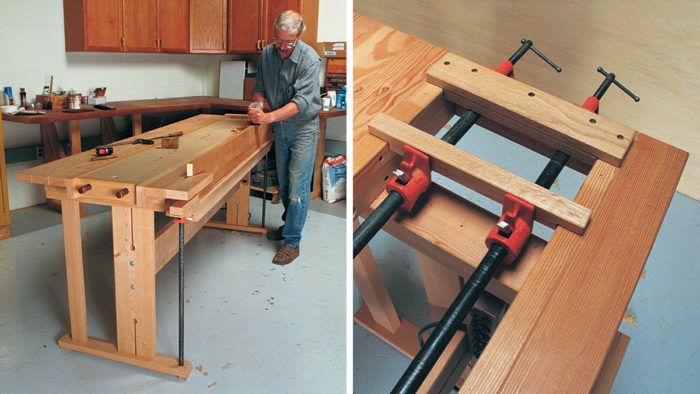 Synopsis: Fine Woodworking's shop manager John White talks about the value of a good workbench, whether you do a lot of handwork or not. He researched American and European designs before designing his own, which incorporates pipe clamps into the bench's top, the front apron, and even the legs. His planing beam slides on the pipes, and they replace a traditional tail vise. He used Douglas fir because it's dense and stable, and assembled it with drywall screws and lag screws, so the joinery goes quickly. You get detailed project plans for this rock-solid, versatile bench.
---
For five years I worked as a cabinetmaker in a shop that used only hand tools for the simple reason that electricity wasn't available that far back in the woods. One lesson that I came away with was the importance of a good workbench—and lots of windows. I now work in a shop that is, if anything, over-electrified, but a functional workbench is still important. Just because you're driving a car instead of a buggy doesn't mean you don't need a good road to get where you're going.
On a perfect bench, the various vises and stops would hold any size workpiece in the most convenient position for the job at hand. Traditional workbenches are adequate for clamping smaller pieces, a table leg or frame rail for instance, but most benches can't handle wide boards for edge- and face-planing or frame-and-panel assemblies.
Our Best Workbenches
Browse our all-star collection of
workbench plans for every taste
Recently, I moved my shop and needed to build a new bench. I began by researching traditional American and European designs. I found that although our predecessors had many clever solutions to the problems of holding down a piece of wood, no one bench planed. Instead, the force of the plane pushes the workpiece into a tapered planing wedge attached to the far left end of the bench. This is an ancient device, and for handplaning it is far more practical than any vise. You can flip the board end for end or turn the other edge up in an instant with one hand. You don't even have to put down your plane.
To make a shoulder vise when needed, I drilled holes 6 in. on-center along the bench's front rail to mount pipe clamps horizontally. I pair up two clamps with a drop-in vise jaw, which is just a length of -in. square hardwood. The jaw can be as short as 8 in. or longer than 6 ft. I have several jaws of different lengths.
Making Sense of Vises
A user's guide to the heart of the workbench
The front vise can be used with the planing beam supporting the workpiece from below. This is useful because some procedures, such as chopping mortises, drive the work downward through the jaws of a conventional vise, scarring the wood.
Traditional tail vise is replaced with pipe clamps
On the bench's top, two pipe-clamp bars are recessed into a l0-in.-wide well, replacing a conventional tail vise and bench dogs. The clamp-tightening screws project from the right end of the bench, and the movable jaws project in. above the top. Both the fixed and movable jaws have oak faces. This clamp setup makes it easy to hold down boards for surface-planing because nothing projects above the board's surface to foul the tool. The top clamp bars have a clamping capacity of just over 7 ft.
From Fine Woodworking #139
For the full article, download the PDF below:
The mighty pipe clamp
Considering its versatility, Mike Farrington thinks the pipe clamp is an underrated, yet cost-effective, tool.
Pipe-Clamp Parts Make Workbench More Versatile
While drilling dog holes in my new maple benchtop, I realized that 3/4 in. is the tap drill size for a 1/2-in. pipe thread.
Our Best Workbenches
Browse our all-star collection of workbench plans for every taste
View PDF
Get the Plan
Fine Woodworking Unlimited members can download digital plans, a cutlist, and a SketchUp drawing for this project in the digital plan library.
Buy The Plan