Projects and Plans
Build a Simple Stool
Learn a fast, fun approach to making a comfortable, casual seat using hand skills.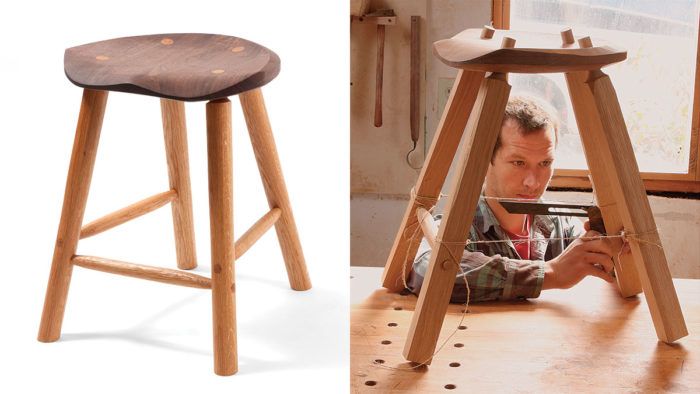 Synopsis: Each of Fabian Fischer's stools has its own character. He makes them with hand tools from a variety of woods and leaves the tool marks that make them unique. Here he builds a comfortable stool sized to sit at a workbench. Simply change the height for different uses. You'll learn how to shape the seat, form the legs and stretchers, including their mortises and tenons, and assemble the stool.

My woodworking career started seven years ago, when I purchased an old timber-frame house with a group of friends in a remote part of the Italian Alps. While restoring its roof and interior without electricity, I discovered the joy of hand tools.
When I got back home to Freiburg, Germany, I was eager to start building furniture using the hand skills I had learned. As luck would have it, my neighbor was a master joiner. He got me started, showing me a traditional way to build strong, beautiful chairs from rough lumber. Since then I've built at least 80, refining the process each time.
My approach is not complex. I simply fit parts and determine angles as I go. The work is about giving each piece its own character, and leaving the tool marks that make it unique. I think of it as beauty in imperfection.
More Free Plans from Fine Woodworking
This stool is a perfect example of my process. It is a good height to use at a workbench. Make it taller for use at a counter or shorter for use at a table.
Lay out and drill the seat
I always start with the seat, which I often make from a softer wood than the legs to ease the shaping process.  Basswood, poplar, and pine are good choices. You can also try walnut, cherry, or elm, but you'll work harder.  For the legs, I use maple, ash, oak, walnut, and cherry.
Continue reading the full article from the PDF below.
View PDF