Free Plan: Architectural Wall Cabinet
Arts and crafts maker presents a fresh twist on a period design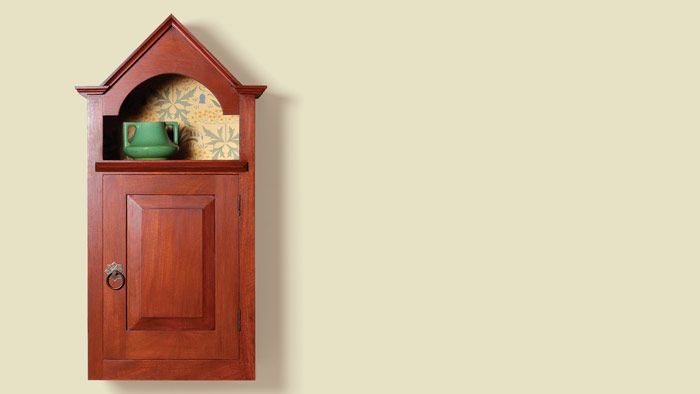 Synopsis: Inspired by the work of Victorian Gothic Revival architect and designer Bruce Talbert, Nancy Hiller came up with a piece that would look quite comfortable in a contemporary home. She pared down the ornate details and capitalized on the architectural shape and character of the original. Period-inspired wallpaper in the back of the upper section adds even more of a decorative flair.
---
This simple hanging cabinet topped with a roof is inspired by the work of 19th-century Scottish architect Bruce Talbert (1838–1881). Talbert may not be widely known on our side of the Atlantic today, but in his own time and place, he was an acclaimed Victorian Gothic Revival architect and designer. I have long been intrigued by one of his architecture wall cabinets, a small piece of case furniture with an elaborate roof.
Talbert's cabinet is ornate, with inlay, fretwork, and gilding. I wanted to make a cabinet that drew on the architectural character of the roof and its Tudor-esque shoulders without being so ornate that it would look out of place in a simple contemporary room. Not to mention that I wanted something I could make in several days, rather than several weeks or months. Adding wallpaper to the back of the open upper section adds a decorative element to my version.
Dovetails are first
Construction begins with the main section of the case. The bottom-to-side joints are dovetailed. I cut the dovetails by hand, removing the waste with a coping saw and chisels. After transferring the tail markings onto each end of the bottom, I sawed the pins, then cut out most of the waste with a coping saw and cleaned up with chisels.
Add the joinery for the fixed shelf
The fixed shelf is joined to the sides with through-tenons. Although the shelf will be trimmed eventually to make way for the back, leave it full depth for now so that you can use the same gauge settings for the mortises and tenons.
Lay out the tenons on the shelf. Start by marking the thickness of the cabinet sides with the same cutting-gauge setting you used for the dovetails. Then use the gauge to mark out the tenons.
Cut the shoulders of the tenons on the tablesaw, staying just shy of the gauged line indicating the cabinet side thickness. Then remove the waste with a coping saw and clean up with a chisel.
---
From Fine Woodworking #270
To view the entire article, please click the View PDF button below:
More on FineWoodworking.com:
View PDF