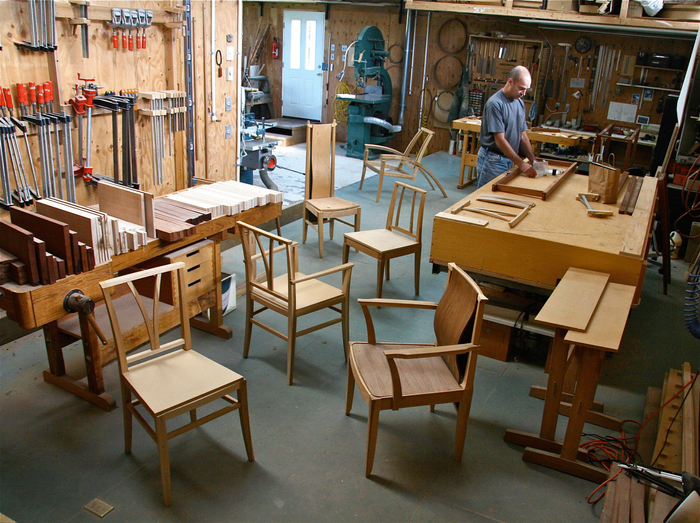 Fine Woodworking Project Guides
Chairs, Benches, and Stools
Projects, plans, and techniques for every type of chair you aspire to build.
Chairs have structural, geometrical, and technical challenges that can confound even an experienced woodworker. This project guide will help you overcome those challenges and develop the special skills required to build chairs that are comfortable and sturdy enough to last generations. From design to construction, this guide is packed with expert advice from renowned chairmakers. Unravel the puzzle of compound-angle joinery, learn how to shape a comfortable seat and to bend wood to your will, and discover special chairmaking tools that make the work more pleasurable. You will also find plenty of plans for projects you want to build.
Design and Techniques

Chair designs vary greatly, but every chair shares the common goals of comfort and strength. After all, there would be no point in building a chair that is uncomfortable or too weak to withstand the stresses of daily use. This chapter will open your eyes to the myriad design options for seating. Get expert advice on the right specs for comfort and guidance on joinery and geometry that work. Learn essential techniques you can use for a variety of chairs, from bending and shaping parts to joinery tips. Finally, discover time-tested methods for upholstered and woven seats that last.

Side Chairs and Dining Chairs

This chapter is packed with plans and techniques for building side chairs, dining chairs, armchairs, and rockers. Learn how to make iconic Windsor and Queen Anne chairs, and discover the secrets to building a set of identical dining chairs. Dive into step-by-step video workshops that explain how to construct a classic Morris armchair and an elegant dining chair. Finally, learn how the pros build a rocker that is well-balanced, sturdy, and good looking, including insights into the classic Maloof rocker, written by Sam himself.

Outdoor Seating

Chairs that will be exposed to the weather need to be built with wood that will resist decay. The opening article in this chapter will help you choose the right wood so that your outdoor project will have a better chance for a long life. From there, we'll explore a number of different chair designs, including the ever-popular Adirondack chair, which many consider to be the quintessential American outdoor chair. Michael Fortune's video workshop takes you through the process of building a beautiful garden chair with classy curves, and we wrap things up with a look at a variety of outdoor bench designs.

Benches, Settees, and Sofas

Bench or settle? Sofa or settee?  Discover the difference between the various forms and, better yet, learn how to put your chairmaking skills to work building comfortable seating for two or more people. Get expert advice on designing and building everything from a classic Windsor-style Shaker bench to a modern Scandinavian-inspired bench with a woven cord seat. And if the Prairie School is more your style, follow along with furniture maker Kevin Rodel as he shows how to upholster a quartersawn white oak settle with leather cushions. Don't worry, he explains how to build the frame as well.

Stools

What has three or four legs, no arms or back, and usually sits higher than a chair? No, it's not a trick question, it's a stool. For such a seemingly simple project, there are a surprising number of different designs. The legs alone can be turned on a lathe, carved, or shaped with a drawknife or spokeshave, and you'll find all the essential techniques in this final chapter. Stool seats can be equally varied, so follow along with the experts as they show you how to machine, carve, or turn a seat...or even weave one from Danish cord or natural hickory bark.