Projects and Plans
Smart, Stylish Cutting Boards
Consider the cargo when orienting the grain and shaping the board.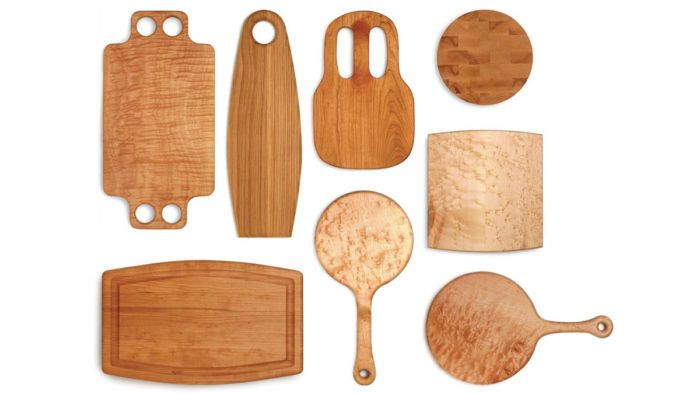 Synopsis: Cutting boards are a great destination for short or narrow offcuts of attractive wood. They're an easy project, but depending on choice of wood can take on an elegance that belies their straightforward design, construction, and finishing. And if you use a template, like woodworker Tim Albers does, you can churn out stacks of gifts. Albers gives instruction on creating a safe surface for food preparation that will stand up to sharp blades and lots of moisture, while at the same time is beautiful and suited to its purpose.
---
A cutting board is a good destination for short or narrow offcuts of attractive wood. Nicely designed cutting boards also add a touch of custom woodwork to your kitchen. And if you use templates to make your boards, as I do, you can churn out a stack of gifts.
While any slab of wood can be used as a cutting board, there is more to this topic than first meets the eye. You want a safe surface for food preparation, and one that will stand up to sharp blades and lots of moisture. There are also issues of form and function: The goal is a board that is both beautiful and suited to its specific purpose, whether for slicing meat, bread and cheese, or fruits and vegetables, or just for serving.
Avoid soft or oily species
The first step is selecting the wood. Cutting boards are pretty simple as woodworking projects go, so more emphasis is placed on the wood's appearance as one of the primary design factors. Durability is another concern. Hard maple is the traditional choice for making a cutting board, but nearly any hardwood will stand up well in the home kitchen.
Most woods are safe for kitchen use, though there are a few to avoid. Stay away from the rosewoods, such as cocobolo, and don't use olivewood, yew, or sassafras. Basically, avoid any wood that is known to cause allergic reactions or that has a high oil content, making gluing more difficult. It may seem obvious, but avoid softer woods like poplar, pine, and fir that will not hold up well to chopping and slicing. Deep cuts and cracks are potential homes for bacteria.
If you want to err as far as possible on the side of caution, stick with hard maple. It's a little tougher to work with, but it creates a smooth, durable cutting board, and it's available with a wide range of figure, such as quilted, curly, and bird's eye.
Form starts with function
Cutting boards can be made in any shape, from basic rectangles and rounds to whimsical shapes or characters. There are no hard-and-fast rules. Traditionally, however, cutting boards are designed around their intended uses.
Boards designed for cutting meats can be round or rectangular, but should be designed to take a pounding. End-grain boards work well: Their durability and thickness are suited to the abuses of heavy chopping and cutting, while the extra mass keeps the board from sliding around the counter. End grain also has less of a dulling effect on knife blades than edge or face grain.
From Fine Woodworking #183
For the full article, download the PDF below:
View PDF