Level up your drill press
These jigs, accessories, and tricks for your drill press will let this must-have tool work even better.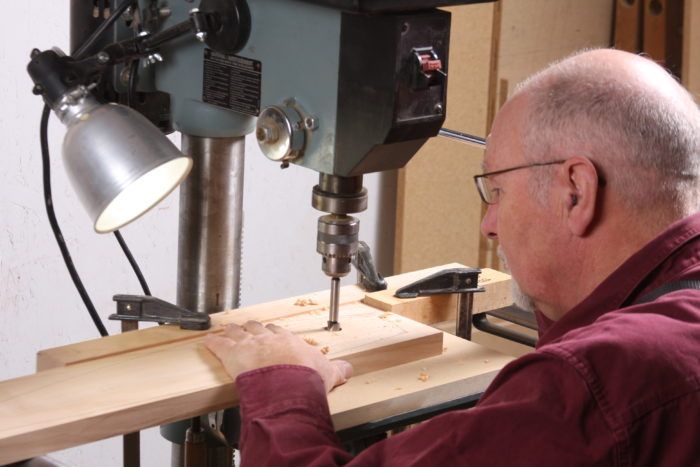 A drill press is likely one of the first tools in your shop. They're dumb simple, but that's their beauty: They drill a hole straight down. That simplicity allows for tons of customization, like fences and other accessories, and applications, like joinery and even light turning. If you want to get the most from this workhorse, scroll down to see a collection of excellent jigs and methods that will benefit nearly any shop.
---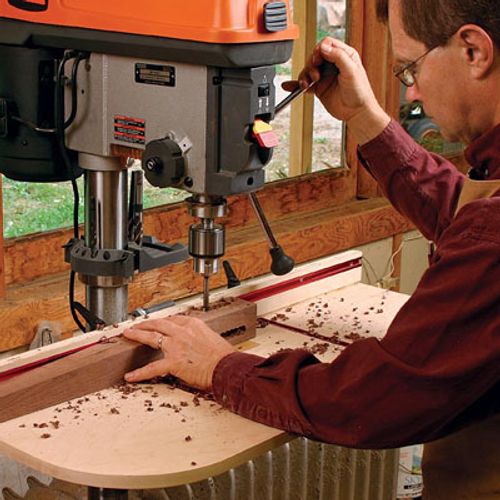 Traditionally a machinist's tool, the drill press has evolved into a valuable piece of woodworking equipment. But in order to get the most from this machine, some refinements are needed. Contributing editor Roland Johnson gives step-by-step instructions for basic troubleshooting on the drill press, plus designs for simple jigs and tricks that help you to support and stabilize large and small workpieces in precise, repeatable positions. Central to this article is Johnson's simple, shopmade auxiliary table, and advice on an essential set of bits for woodworking.
---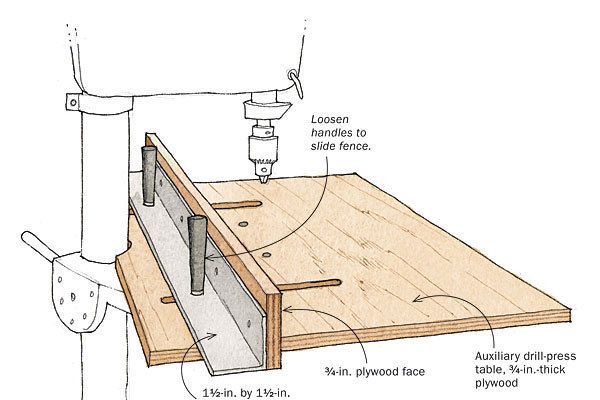 This quick-to-make drill-press fence is a big improvement over the clumsy strip of wood and two clamps that most of us use.
---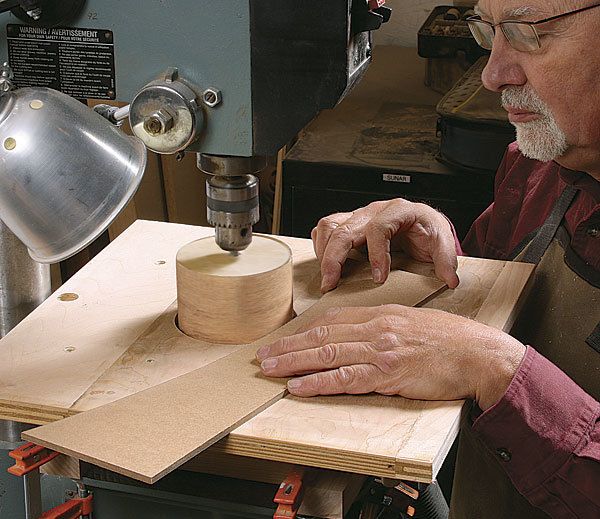 Aftermarket sanding drums that you use in a drill press come in handy for sanding curves. But as Michael Fortune discovered, they come in a limited range of sizes and grits. Fortune makes his own drums out of plywood disks and cloth-backed sandpaper, and uses them to smooth curves of all sizes. Learn how he makes them and what handy uses he has found for them in his shop.
---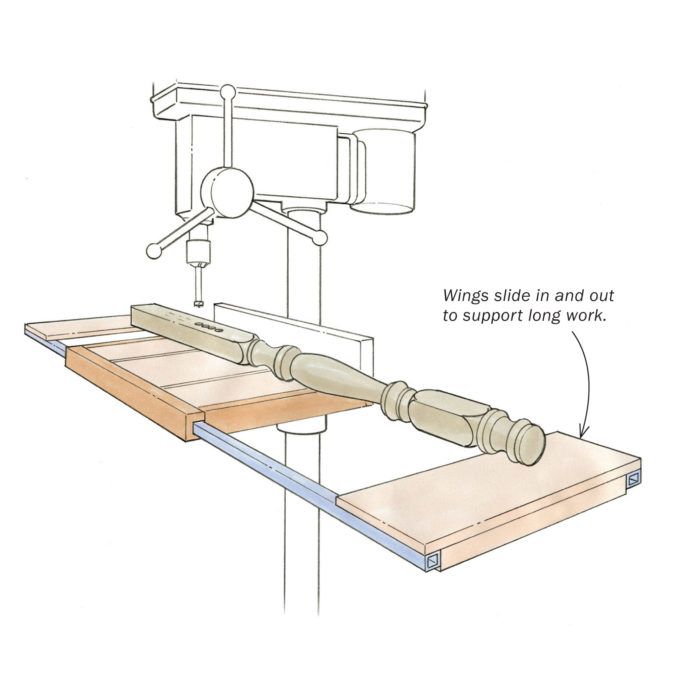 Whenever you drill a long piece that extends beyond your drill-press table, it can be a struggle to hold the piece down safely. This shopmade table solves this problem effectively and economically.
---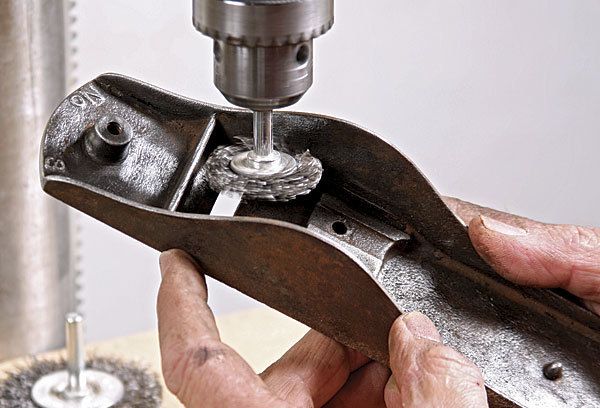 Get the most out of your drill press with expert advice from Michael Fortune. From proper setup to inventive jigs, this longtime professional furniture maker knows how to turn this boring tool into a shop staple. Find tips on making an auxiliary table, supporting large workpieces, bringing the work closer to your eyes for greater accuracy, using stop blocks, holding work securely for drilling end grain and small workpieces, cutting circles, and more. You'll also learn the value of using your drill press as a sander.
---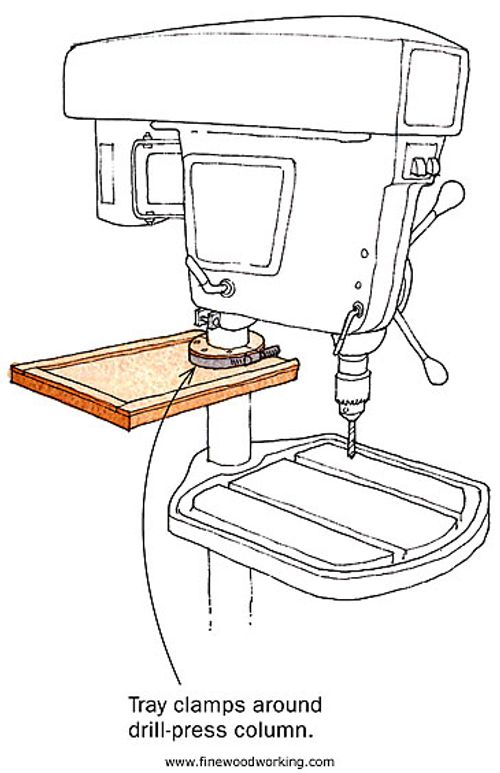 This shelf, made from 3/4-in.-thick Baltic-birch plywood, keeps bits and other accessories for the drill press close by and prevents them from rolling off onto the floor.
---
A 110° notch in each jaw adds a ton of versatility to these time-tested clamps.
---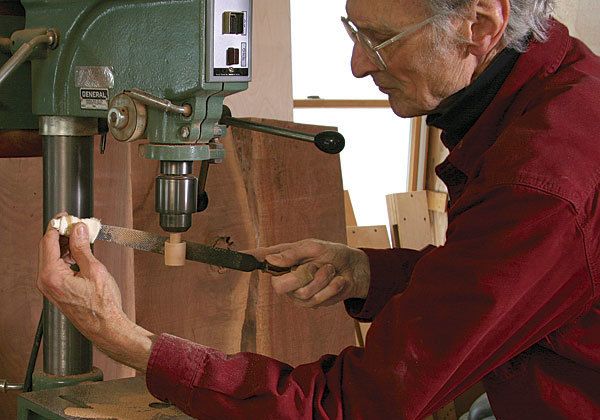 You can make authentic looking Shaker knobs without a lathe. All it takes is a drill press, a tenon cutter, and a few rasps and files. The process is simple and surprisingly quick. Christian Becksvoort starts with square blanks, uses a tenon cutter to make the tenon, and then "turns" the knob with the tenon inserted in the drill-press chuck. Now you no longer have to settle for manufactured Shaker knobs, even if your shop is not equipped with a lathe.