Get More From Your Drill Press
The right bits, jigs, and techniques turn a metalworking tool into a versatile machine for woodworking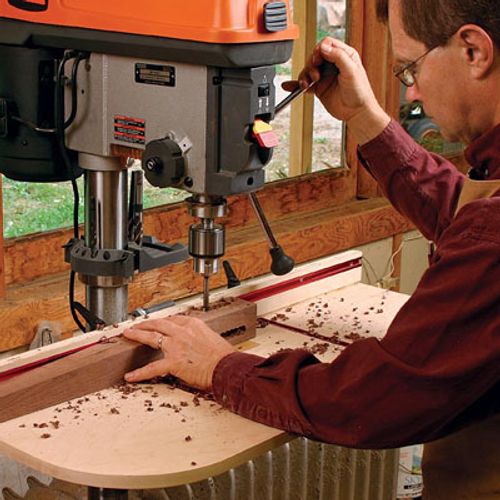 Synopsis: Traditionally a machinist's tool, the drill press has evolved into a valuable piece of woodworking equipment. But in order to get the most from this machine, some refinements are needed. Contributing editor Roland Johnson gives step-by-step instructions for basic troubleshooting on the drill press, plus designs for simple jigs and tricks that help you to support and stabilize large and small workpieces in precise, repeatable positions. Central to this article is Johnson's simple, shopmade auxiliary table, and advice on an essential set of bits for woodworking.
Originally designed as a tool for machinists, the drill press has become a standard fixture in woodworking shops. It is capable of drilling both small and large holes more accurately and safely than a handheld drill, and it has a built-in depth stop. The rack-and-pinion pressing action of the machine gives easy leverage for boring large holes in hard material. Throw…
Start your 14-day FREE trial to continue reading this story.