Editor's letter: The fear of failure
Ben Strano argues that you'll become a better woodworker when you accept and expect that mistakes will happen.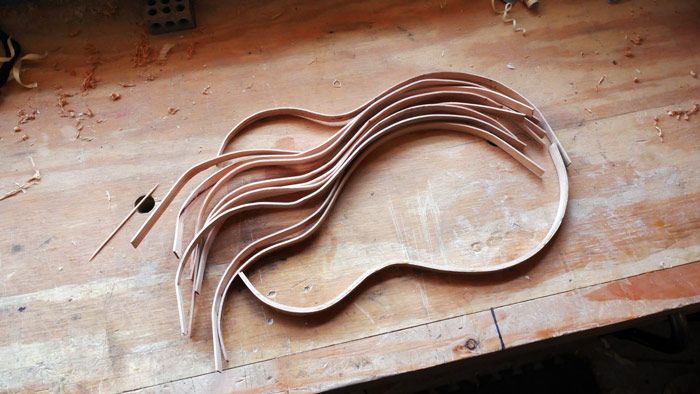 Before me sits a pile of fail pieces. Attempts at making wood bend in precise ways it didn't want to bend. I'm not bothered one bit by this pile. I've been trying to figure out why it's not bothering me. Years past, I'd have been annoyed by every single one of these pieces not turning out the way that I wanted them to. Each one would have made me feel discouraged, then frustrated, then likely I would have abandoned the project altogether. 
This job gives me a glimpse behind the curtain. I've seen woodworkers that I have looked up to for years–straight up—screw up. They all do. I've seen mistakes made by Mike Pekovich, Chris Becksvoort, Bob Van Dyke, Tim Rousseau, Chris Gochnour … let's just say I've seen some mistakes made by them all. The difference is, they do it with style. They deal with it, and they move on. When you're learning how to work wood–by yourself in your shop–you can only take in the information that's given to you. Most of the time, you see the end product. Whether it's the product of fancy video editing, or the product of countless iterations and prototypes, you are seeing the end product. Stop judging yourself, your skills, or your project on other people's end products. Trust me, you're not seeing the repetition. You're not seeing all that has gone into a piece. You can't. 
I no longer assign value to my woodworking skills based on my current or past projects. For me, woodworking is a journey. Once I stopped thinking that every project had to be perfect, I got better and better because my attitude got better. I was able to try things and not worry about their outcome. I was able to move forward with a project even though it was flawed. You don't get better by stopping.
My projects have flaws. They will always have flaws. But, every time I screw up, it's one more notch on the wall, one more "point" earned, one more mistake that I can stop worrying about. They are all there for the taking. Until you make the mistake, and learn from the mistake, it's just waiting for you to stumble upon it.
If I make a new mistake, I'd better find a way to learn from it. Why did it happen? How can I set myself up to make sure it doesn't happen next time? Do I need to use a different tool or technique? Did I not inspect my material properly? Did I mark my piece properly? Etc. etc.
If it's an old mistake that has reared its head again, I know how to fix it. It's not nearly as daunting the second time around. Laugh it off, suck it up, and fix it.
When I look at the pile of failed bends in front of me, I see notches on the wall. Whether it was a change to a bending form, more time in the steambox, or better clamping techniques, I learned from every single one of them, getting me closer to my final goal. From the moment I cut into the board, I knew these pieces were not do or die. I milled up extra stock because I knew I was going to try some new techniques and rack up some "mistake points." I knew that I would find success in a good bend, or a bad bend. 
Accept that you're going to make mistakes. They are not novel. Learn to glory in them, because that's the only way they are worth it.
---