Our young woodworking friend earns local acclaim
Community honors Frankie DeMunda for raising big money to help others during the pandemic.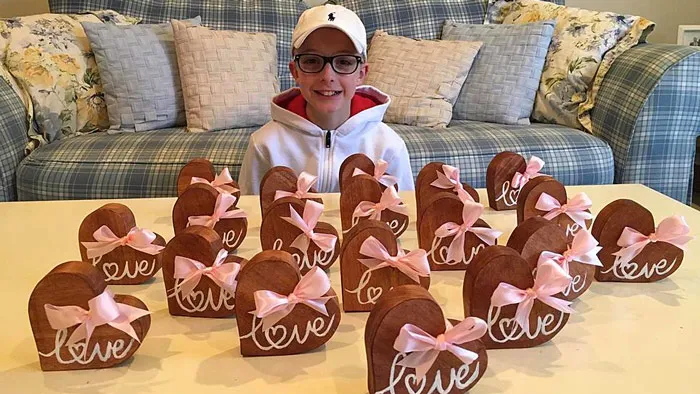 There is a foundation in Danbury, Conn., where I live, called The New American Dream Foundation. This group seeks to highlight the contributions of a diverse group of people, in areas of health, education, and civic engagement.
Every year they have an awards ceremony to honor people who did the most to improve life in Danbury and this year they are honoring COVID warriors. "Six Feet Apart – Closer Than Ever: Honoring our COVID-19 Warriors." will be held on Sept. 17. One of the honorees is young woodworker, Frankie DeMunda, of Frankie's Woodworking, whom I have written about before.
This is what they said about him.
YOUNG WARRIOR – an individual under 16 years old that sprang into action. 
Honoree: Frankie DeMunda 
Frankie DeMunda will be entering eighth grade. He creates and sells woodworking items with some pieces and proceeds going toward various causes. At four years old, he began learning woodworking from his grandfather, who had been taught by his father. Frankie sold 35 wooden Easter bunnies, using $250 of what he earned to purchase 50 lunches from a local restaurant for Danbury Hospital workers at the front lines of fighting the coronavirus pandemic. Over the past year and a half, he has donated approximately $15,000 to different charities and organizations, including our local nurses and doctors, police, fire department, group homes, food pantries, and teachers. He also helped provide groceries for many for local families in need and created 15 to 20 wooden Christmas trees to decorate the cancer unit at Connecticut Children's Medical Center. His most recent donation went to the Dover Air Force Base and to the families of fallen soldiers. Frankie also loves to donate his work to various people in our community.  
Good work, Frankie. We're proud to know you.