Free plans for Unlimited members
You asked for it. Now you have it. Unlimited members have free access to Fine Woodworking's entire digital plan collection.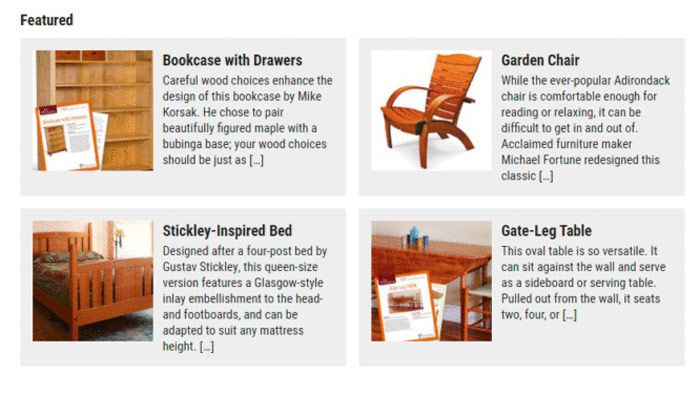 Ever since Fine Woodworking launched the Unlimited membership program, we've been adding useful and enticing upgrades, such as our newly created (and ongoing!) Project Guides, as well as access to Fine Woodworking's Complete Illustrated Guides collection and other publications. Our latest upgrade is something many Unlimited members have been asking for, and we are excited to deliver it to you: exclusive, free access to all of our digital plans for furniture and accessories.
Found on the homepage, the plans library includes our entire inventory of digital plans—100 of them and growing. You'll find plans for anything you want to make: tables, chairs, cabinets, accessories, and gifts; plus workbenches, tool cabinets, and other shop furniture. And you'll find plans by many of your favorite Fine Woodworking contributors, including Mike Pekovich, Chris Becksvoort, and Michael Fortune.
Now it is easier than ever to find plans for any project you want to build this year. The library is searchable by author (the maker or designer), skill level, or type. Another option is to go old school and simply scroll and browse. Once you have found a plan you want to build, click the link and download the files. It's very easy and straightforward. After that, all you have to do is get your lumber and get to work! We hope you enjoy this upgrade. Let us know what you think.
Not an Unlimited member? Sign up now and start exploring all membership has to offer.