Greenwood Fest 2018: A Walk Through The Woods
If you're the type of person who is into green woodworking, it might be as close to nirvana as you're likely to experience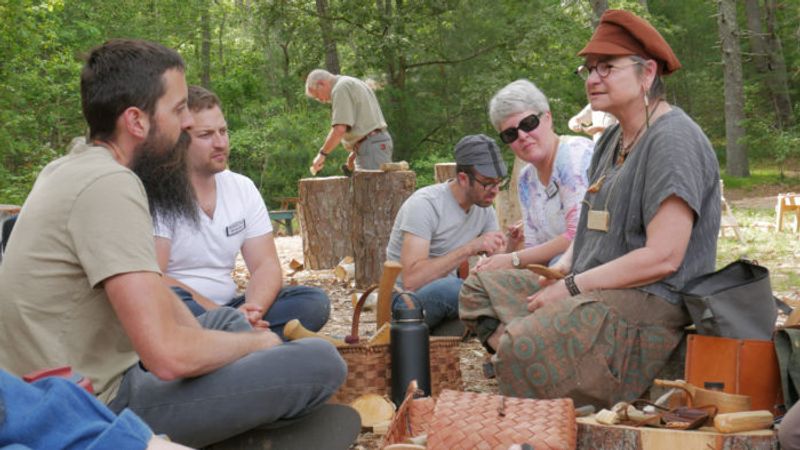 I'm about as lucky a person as you're likely to find. One of the byproducts of this is that I have a job that allows me to—NO, demands me to—attend just about every major woodworking event around. They are all wonderful, and different. Greenwood Fest is no exception, and if you're the type of person who is into green woodworking, it might be as close to nirvana as you're likely to experience. While I was there I recorded lots of footage, and when I got back, the task of editing it all together into one cohesive thought was overwhelming.
In the end, I decided to try  to convey the feeling of what I experienced at Greenwood Fest. The serenity of walking through the woods to happen upon Darrick Sanderson with a crowd of people close enough to his pole lathe that the shavings fall at their feet, or the feeling of sitting for hours (literally hours) watching Curtis Buchanan build a chair while he tells story after story–these experiences alone are worth the price of admission.
But before you jump in, here's a warning about the rabbit hole that is green woodworking
Years ago, I watched an episode of the Roy Underhill's Woodwright's Shop that changed the trajectory of my woodworking journey. Roy's guest that week was Peter Follansbee, who you've undoubtedly heard of unless you do your woodworking under a rock. It was the first time I witnessed the madness that is green woodworking, and more specifically, spoon carving. Why would this bearded hippy not buy real lumber? Why is he starting with a tree branch and using an ax to rough out a spoon? Wait, why is he making a spoon? I went to Target years ago and bought eight of them, and we still have six—surely that's enough to last a lifetime. Why is he going through all of the trouble of carving a spoon when he could be covered in sawdust like me, making another bookcase? Huh, that does look like a fun thing to do, and a carved spoon is obviously going to be more enjoyable to use than that crap Target sells. Maybe I should go chop down a tree with an ax. Wait, am I a hippy now? Is Peter Follansbee my new leader? If only I could grow a longer beard! Just like that I found myself paying more than I thought possible* for a hatchet and scanning the road for fallen cherry trees as I drive.
Be careful, folks, because it's a really slippery slope. Peter is a Siren in disguise, reeling you in until you're close enough for Dave Fisher to finish you off. Once Dave gets a hold of your woodworking ethos, you're done. Just think about taking that spoon you carved and using it to eat cereal out of a hand-carved bowl. The next thing you know, you'll be thinking about selling your tablesaw.
I tell you all of this because I care about you–and your tablesaw.
Forget about me; I'm a lost cause. Not only have I watched all of Peter's spoon carving videos multiple times, but I also spent a week in Dave's shop while he made a bowl. The next obvious step was to go to Greenwood Fest, a gathering I've dreamed about  since it started three years ago. I've said it before: Woodworking can be an isolated activity, and it's good to be around others who are the same kind of crazy as yourself. Whether it's Fine Woodworking Live, Handworks, The Woodworking Shows, Woodworking in America, or a guild meetup, there is nothing like talking face to face with other woodworkers and sharing your experiences and knowledge.
Greenwood Fest is a special time, in a special place. I hope this video conveys a small portion of what I experienced during those three days, just wandering through the woods surrounded by green wood and sharp blades.
*You don't need to spend much money at all on a hatchet. I enjoy a premium tool from time-to-time, it's one of my few extravagances and one of my many faults.
More on FineWoodworking.com: