Greenwood Fest 2018
Green woodworking for all woodworkers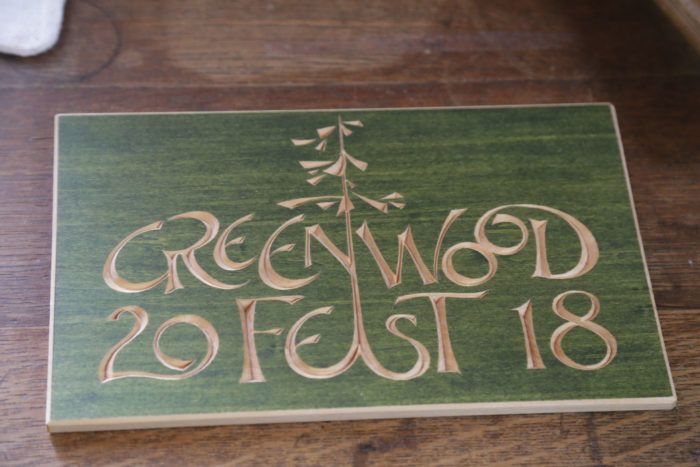 I'd heard about Plymouth CRAFT's Greenwood Fest for years, but I wasn't sure what to make of it personally. While I love green woodworking, I'm no spoon carver—or bowl carver, for that matter. Dry, flat, and square keeps me busy enough. I do, however, frequently jump to wrong conclusions. So when I finally looked at the Fest's lineup, I was quickly put in my place. It had something for everyone. Here's a taste: steam bending, sharpening by hand, letter carving, and wax inlay. Oh, and Curtis Buchanan built a chair—yes, a chair—over three days, all the while telling stories like only he can.
There's plenty beyond the courses and talks, too. For one, there was hangout time with the instructors, who, if they weren't leading a class, could be leading the Carving Forum as attendees flittered in and out to listen to their informal instruction (and banter). Another option, and maybe most amazingly, was the hanging out right next to the Forum.
At the start of the weekend, a pile of logs was dropped off in a small clearing conveniently located in front of the cafeteria of the campsite where the Fest's held. From morning till night, people sawed off portions of the logs before splitting and hewing them. Then they carved. While in the morning people tended to work in solitude with a cup of coffee, circles of woodworkers would form, expand, contract, and divide as the day wore on. Sometimes, impromptu, informal mini-classes would happen as more seasoned carvers helped less-seasoned ones. Here, the Fest was as hands-on and personal as you wanted it to be.
Some attendees didn't even attend classes; they just sat near the wood pile with their hatchets and knives, working wood. One guy, Peter K., has done this every Greenwood Fest. That means for three years, he's paid and traveled to just hang out with like-minded woodworkers. This year, at the Hootenanny Saturday night, a right fun party replete with a live band, Peter K. handed out wine, cheese, and cured meats just because.
Why such generosity? Well, Peter's a generous person, for one. But also, Greenwood Fest had something for everyone. There was a diverse group of woodworkers—Plymouth CRAFT aims to be completely welcoming and inclusive—getting out of their shops to practice and discuss the craft together. Because green wood isn't just for spoons. My proof? Peter K., that guy who's showed up for three years to sit on the green, carries his green woodworking tools in Festool Systainer. He carves some lovely spoons, too.Click below for more photos from Greenwood Fest 2018