David Fisher's Snug, Unplugged Workshop
A woodworker's space evolves around him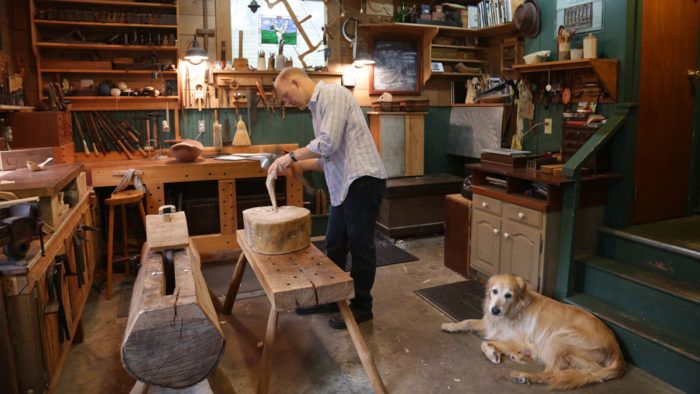 The little workshop at the back of our house has changed as much as I have since the day some 20 years ago when I first entered it. Today as I dive ever deeper into working green wood, it serves me perfectly. But its history reflects my own journey through the craft.
In 1996, my wife, Kristin, and I bought a century-old house in our hometown—a house showing its age and in desperate need of renewal. Fortunately, we were naïve about the amount of work that lay ahead; as we stood in the odd little attached garage that served as a vestibule, we focused on the potential and ignored the leaking roof.
This quirky L-shaped space was 19 ft. deep and 10-1⁄2 ft. wide, broadening to 15 ft. wide beyond a bump-out of the house. We agreed that our vehicle would stay outside—it was only a car after all. What few tools I owned were moved into this 250-sq.-ft. space that we were already calling the workshop.
For the first year or so, it remained unchanged but for some crude shelves and a cast-off chest of drawers I used as a workbench. It was the domain of chopsaws, caulking guns, paintbrushes, and utility knives as the infrastructure of the house took first priority. Rooms were transformed, floors were installed, and built-ins were built. As the list dwindled, my mind drifted to furniture and carving. It was time to outfit the shop.
I had worked in my high-school woodshop, in my dad's basement, and in the living room of my first apartment, where I clamped boards to the coffee table to carve them, but this would be my own dedicated workshop. I went with what I knew: a basic workbench, low cabinets as a perch for benchtop power tools, and lots of pegboard and metal hooks. The workbench and the row of low cabinets still serve me well.
I stumbled into building a workbench that is as solid as the workshop itself. Using dimensional lumber, I constructed the supporting framework and secured it to the wall studs. I bought two sheets of 3⁄4-in. exterior plywood, ripped them lengthwise, and face-glued them into a four-layer sandwich of a benchtop. I drilled some dog holes and added a face vise and got to work.
---
From Fine Woodworking #265
To view the entire article, please click the View PDF button below:
View PDF