Inlay and Veneering: Our Favorite Articles
A roundup of our top articles and videos on inlay and veneering, from woodworkers like Bob Van Dyke, Steve Latta, and Garrett Hack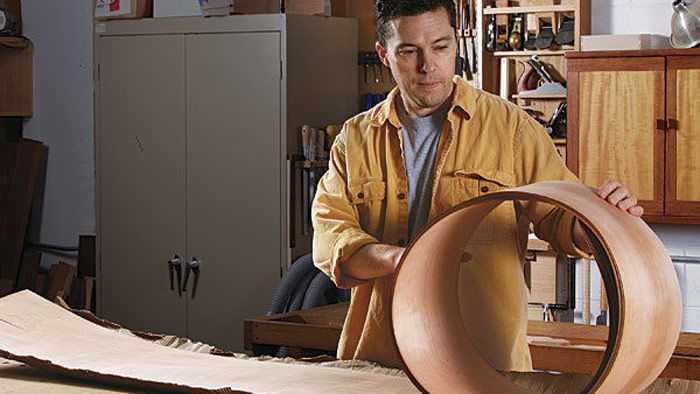 Our editors have sorted through our archives for their favorite articles and videos on inlay and veneering. Featured below are the top six how-to articles and video workshops showing you line-and-berry inlay, inlaid panels, string inlay, basics of wood veneering, and veneered boxes.
---
Synopsis: For those unfamiliar with fine woodworking techniques, the word "veneer" conjures up images of cheap throwaway furniture, yet nothing could be further from the truth. In the hands of a skilled woodworker, veneer can be used to produce stunning patterns that would be impossible to achieve with solid wood. In this three-part video series, Fine Woodworking contributor Bob Van Dyke demonstrates basic veneering techniques including softening, rough cutting, seaming, and glue-up, while preparing a period-appropriate book-matched drawer front.
by Bob Van Dyke
---
Synopsis: Learn to cut the grooves and inlay the stringing for the line-and-berry inlay design featured on the door of Steve Latta's spice box. His simple but effective method for setting intersecting or overlapping stringing will allow you to make complicated designs without fear of chipout. Also included are instructions for making your own stringing.
by Steve Latta
---
Synopsis: With vacuum bags, it's easier than ever to incorporate veneer into your doors, panels, cabinet tops, and other furniture components. But before you start working with veneer, you need to learn how to buy it, cut it, join and seam sheets of it to get ready for glue-up. And who better to offer advice on the topic than furniture maker Craig Thibodeau? Here, this veneering expert gives you all the information you need on choosing veneer, marking and mending the pieces, flattening them, and then trimming and taping sheets of veneer to make beautiful book-matches, slip-matches, or other designs.
by Craig Thibodeau
---
Synopsis: In this video Workshop, Adrian Ferrazzutti shows you step-by-step, how to build beautiful boxes sporting intricate geometric veneer patterns. Despite their complex appearance, Ferrazzutti's veneered boxes rely on simple glue-up and resawing techniques that work together to make boxes graced by dazzling stripes. 
by Adrian Ferrazzutti
---
Synopsis: Add spark to your furniture designs with inlaid panels. By adding a simple rectangular panel of crotched wood surrounded by a contrasting dot-and-dash border at the top of the legs, Garrett Hack elevates a table from functional to fabulous. Here, he gives tips on locating the panel and choosing the material, how to make it pop, and a step-by-step guide to cutting the recess and putting the inlay together.
by Garrett Hack
---
Synopsis: String inlay is a decorative technique that can add instant appeal to a chair back, tabletop, jewelry box, or other piece of furniture. And while you could use a router to cut the narrow recess required for this accent, Michael Fortune prefers a shopmade cutter he creates from a card scraper. It allows you to work efficiently but without the risk of mistakes that a power tool can pose. It also puts you in control of the width of the inlay. Here, Fortune shows you how to create the inlay tool and how to choose the right wood, cut the strips for the string inlay, and install it.
by Michael Fortune