How to Get Published in Fine Woodworking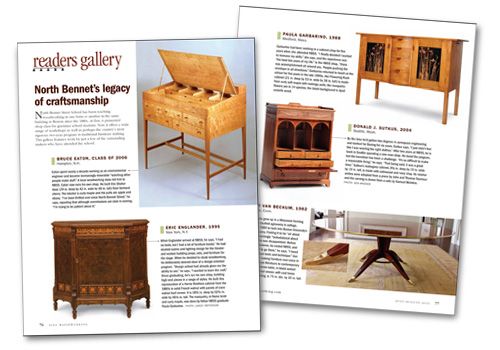 We get that question a lot. Whether its via a phone call from a loyal subscriber, a comment left in a blog post at finewoodworking.com, or an email sent to an editor, there are lots of folks out there wondering how to get their work seen online or in print at Fine Woodworking magazine.
Article Submissions
Every week, our managing editor receives between ten and fifteen article submissions, each of which is thoroughly reviewed as a potential piece of content for Fine Woodworking magazine. While sometimes it's just a matter of making the right pitch at the right time, you can increase your chances of success by following a few simple guidelines.
Submitting an Article Proposal to Fine Woodworking:
• 

 Summarize your topic in a few paragraphs that outline what you plan to cover


• 

 Include a paragraph on yourself and your woodworking background 


•  Take care with your photos and visuals-they help us to understand your idea


•

 

 Include a self-addressed stamped envelope for us to return your material in

Once we've received your proposal, we'll send you a letter acknowledging its arrival. You'll hear from our editors again within a month or two, once we've come to a decision.
More on Article Submissions
Author Guidelines
Ten Tips for Getting Published
Behind the Scenes at Fine Woodworking
Share Your Work Online
Fine Woodworking's online gallery is a great place to get your work seen. Not only does it offer your projects some great exposure, it's a great way to share your pieces with other woodworking enthusiasts whose insights on design and execution are invaluable to anyone with a passion for furniture.
Posting your work in the gallery couldn't be easier:
• 

Create a free account at FineWoodworking.com


• Log in using your new account and go to the

Reader's Gallery


• 

Click on the "Post Your Project Link" and upload your work

You'll be directed to a simple form where you can enter a title for your project, a subheading ("summary"), a photo, and "full text." Under the "full text" block, be sure to post all the pertinent information relating to your work: wood species, finishing technique, dimensions, etc.

Be sure to pay particular attention to our photo specifications. Images uploaded into the gallery should be either .jpg or .gif files, between 400 and 1200 pixels in width.

Once you've posted your work online, it's just a matter of sitting back and interacting with your fellow woodworkers. Don't be surprised if folks leave comments, suggestions or accolades in the "comments" section beneath your post. It's a great way to learn from those around you and to share your passion.
Submit Your Work for Print Publication

In each issue of Fine Woodworking magazine, we publish about a dozen of your projects in our Gallery section. It goes without saying that there's some stiff competition for a spot in the printed magazine! We welcome submissions from pros and hobbyists alike, just be sure to visit the gallery submission page and follow our specifications. You'll be asked to include basic contact information like your name, address, telephone number, and email address, as well as a complete description of your work including dimensions, wood species and furniture style. Be precise and make sure you provide us with all the necessary information.
Guaranteed Gallery Blunders
I asked the editor of our Gallery section to point out the two most common, avoidable mistakes made by folks submitting work for print publication. These two errors will almost guarantee your work won't make the first round of selection, so read carefully.
Mistake No. 1 – Plenty of Photos but No Information: I can't tell you how many times we've received beautiful submissions for the magazine's Gallery that contained absolutely no information other than an email address. The fact of the matter is, we receive too many submissions every month to contact each and every artist for the details. So remember to send us any and all pertinent information regarding the design and construction of your piece.
Mistake No. 2 – Tiny Photographs: This is exactly the reverse of mistake number 1. Often times, we'll receive submissions that contain loads of information, but photographs that are much too tiny to be of any use. It's best to send us full resolution images, just as they come out of your camera. Don't worry about things like color correction–we have an entire team here at the office who specialize in making your photos look their very best.


Tips for Great Furniture Photos
Be sure to read Fine Woodworking art director Michael Pekovich's recent article on how to photograph your furniture.A Woodworker's Guide to Photography offers a whole host of tips and techniques on everything from basic equipment and lighting—to perspective and backdrops.
Got a Great Tip You'd Like to Share?
We've published hundreds of fantastic tips in the magazine's Workshop Tips department over the years and we're always on the lookout for new material. If you've got a tip or method that you'd like to share with your fellow woodworkers, don't be shy, send it along to us via email or good, old-fashioned snail mail. And remember, we pay for every tip we publish; the best tip also wins a prize!
Cecil Braeden won a 12V driver kit from Bosch for his tip on how to build a part-time outfeed table for the bandsaw (FWW issue #213).
Braeden is actually a repeat contributor to Fine Woodworking. His Rock-Solid Plywood Workbench was featured in issue #181. And he helped a reader in our Q&A section in issue #203; Plywood Edging that Matches Perfectly.
By Snail Mail
Fine Woodworking
PO Box 5506
Newtown, CT 06470
By eMail
[email protected]