Wood Works 2017: A New Show Makes a Splash in the Southeast
Ever wonder how much work it is to curate a new woodworking show? Ask Abraham Tesser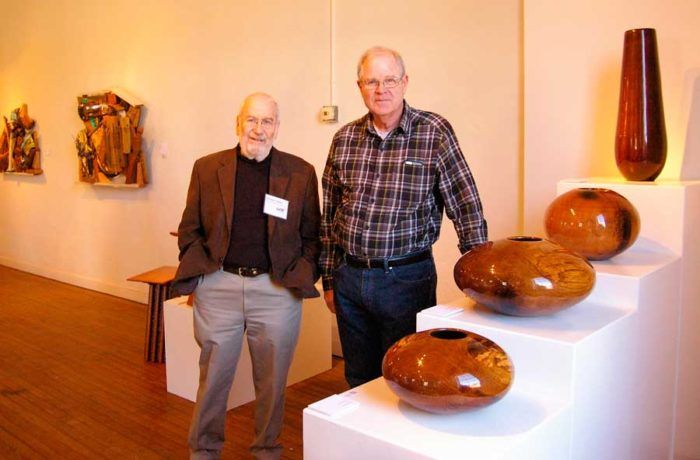 You know the kind of person who sees a need, and instead of just complaining about it actually does something about it?
Abraham Tesser is one of those people.
The Athens, Ga., furniture maker had been thinking about woodworking shows for several years—how he wished there was a wood art show in his region that celebrated artistry in wood and gave the craftsmen he admired a place to show and sell their work; how there really wasn't anything in the immediate area that filled the need; how he'd organize such a show if he had the chance.
Then he got the chance, and he jumped at it. A representative of the Oconee Cultural Arts Foundation in Watkinsville, where he is a member, asked if he would consider curating a wood art show for them. "Wood Works 2017: A Regional Exhibition" was born.
"I had never done anything like it before, but I saw a need," Tesser says. "I wanted my friends and neighbors to see real artistry in wood. I wanted to provide a place for artists whose work I so deeply admire to show and sell what they do; and for them to be among their peers, others whose work is equally well-designed and executed. (And I thought that it would be fun to rub elbows with such talented people.)"
"I was very familiar with the quality of Abraham's work, and I knew he had an eye for the quality we would be looking for," said Cindy Farley, executive director of OCAF. "I also knew that Abraham had founded the Athens Jewish Film Festival, so he would bring along exceptional organizational skills."
And so it began. Planning meetings started in May 2016 and they started reaching out to area woodworkers. "It took six months of almost full-time work identifying, locating, and recruiting the artists and the sponsors."
"Abraham worked tirelessly in the months leading up to Wood Works," Farley said. "He formed a committee, oversaw fundraising efforts to help with marketing costs, developed talks and programs, and invited top-notch artists to participate."
As Tesser curated the show, he relied on a number of guiding principles: The medium had to be wood, and the technical and creative transformation of the wood had to be of high caliber, with superb construction and a flawless finish. The work had to have a quality that would capture the attention of show-goers. And the organizers also wanted to show wood art in as great a variety as possible.
For the most part, individual pieces were not selected, but the woodworkers and artists were invited to submit pieces. At first, Tesser was concerned that a new show with an untried curator would have a credibility gap in attracting the caliber of artist he wanted. But it turns out that he didn't need to worry.
"Philip and Matt Moulthrop, members of the recognized 'first family' in artistic wood turning in the U.S., agreed to participate on the first ask," Tesser said. "Sabiha Mujtaba and Alf Sharp, important members of my personal pantheon of furniture makers, not only agreed but actively helped recruit others of incredible talent. Highland Woodworking is a highly visible and well respected vendor of woodworking tools in the region.  Their Presenting Sponsorship of the show added yet another boost to our credibility.
"There were very few serious disappointments.  In short, it took a lot of work but not much arm twisting to get over 40 outstanding participants.  Most wanted to do it!"
Was the show a success? Yes, Tesser says, by a number of yardsticks. The show was popular, getting quite a bit of local media coverage and spurring word of mouth that kept bringing people back. Gallery talks were standing room only, and several artists sold their pieces. A number of college and university classes came through. Also, OCAF came out in the black.
"In early January, a couple of weeks before our exhibition, I could feel the buzz around this show and knew then attendance to the opening reception would be something larger than usual. It was. We estimate 400+ attended that two-hour reception and at least 1,000 visitors saw the exhibition during its four-week run. Guests came in from all over the Southeast, and feedback was tremendous," the OCAF's Farley added.
And what lessons did Tesser take from his first experience curating a show?
"I learned a few things:  First curating a show like this is simply labor intensive!  Perhaps more important, there seems to be a market for this kind of thing.  The artists hunger to be shown in a context in which the quality is well preserved.  And, the public seems thrilled to be around work that is well executed, beautiful, and thought-provoking."
"There is some interest in doing another show, perhaps on a biennial basis.  I see some merit in that.  As for me, I am not sure. Right now I am still recovering from this one!"
"We do anticipate holding 'Wood Works: A Regional Exhibition' again," Farley said, "possibly in 2019."
Wood Works is featured in the July/August Gallery of Fine Woodworking magazine. For more on the show, go to www.ocaf.com.