Kitchen Cabinet Tips from Norm Abram
Two smart suggestions that make it easy to build strong, square kitchen cabinets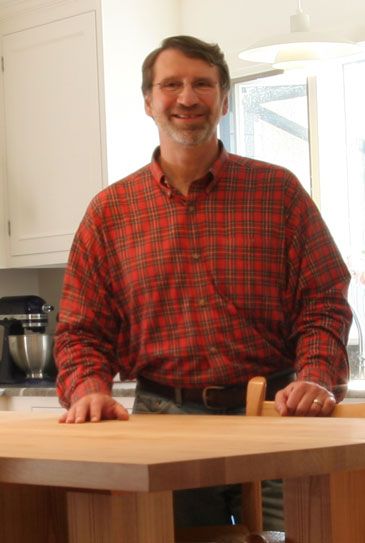 The upcoming season of our longstanding PBS series, The New Yankee Workshop with Norm Abram, is devoting nine episode to showing how to build a custom dream kitchen.
In anticipation of this 20th anniversary season, I wrote an article published in the February 2008 issue of Fine Woodworking magazine with a collection of my favorite kitchen-building tips and techniques.
Here, in an excerpt from my article My Dream Kitchen, I share two important construction tips. Read the full article for 18 more great ideas to help you through the process.
Make the cases rock solid

Rabbet and dado joints, glued and screwed, are easy to do and make for a sturdy case.
To easily locate screw holes in cabinet bases, drill the shank holes from the inside faces (left), through the rabbet and dado grooves; then countersink the shank holes on the opposite side.
After applying glue and fitting the pieces together (but before driving wood screws), drill pilot holes to prevent the plywood from splitting.
Attach face frames with biscuits



Biscuit joints are a quick, easy, and strong way to glue the frames to the cases. Plus, you don't want any nail holes to fill on this very prominent surface.
To save time, instead of cutting individual slots in the case fronts to accept the biscuits, use a slot cutter to cut a continuous slot along each edge (right).
After that, cut normal biscuit slots in the face frame. Then, simply use clamps to hold the parts together until the glue dries.
More from FineWoodworking.com