Built-In Basics
Level bases, modular construction, and scribing to walls are keys to success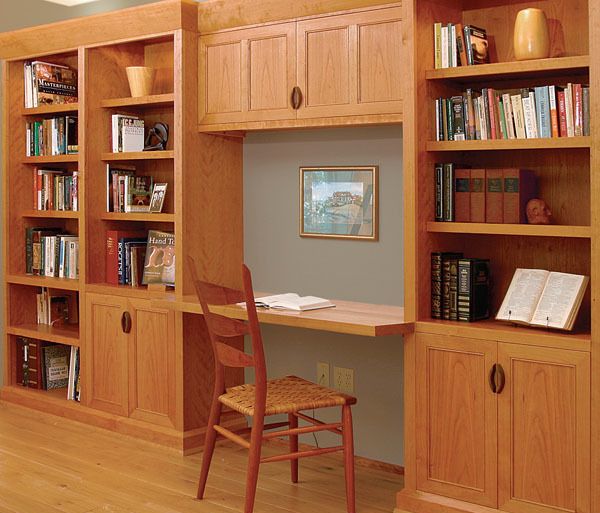 Synopsis: Built-in furniture adds value and personality to a home. However, it is also a unique form of woodworking, encompassing furniture making, cabinetry, and finish carpentry. Built-ins require careful advance planning. The article includes techniques for building modular cases, scribed edges, and reveals to conceal seams and joints. From leveling the base to installing molding, OMalley details the steps that will result in a beautiful custom piece in your home.
From Fine Woodworking #166
When designing and building the more utilitarian pieces for your home—entertainment centers, bookcases, corner hutches—you'll inevitably consider the question: Should I make it freestanding or built-in? The answer involves both aesthetics (which will look better?) and economics (do you want to spend all of that time and effort on a project you'll have to leave behind if you move?). Sooner or later, you're likely to tackle a built-in.
Over the last few years I've earned an increasing portion of my income from wood working, and the majority of it has been from built-in projects. Built-ins are popular with homeowners for two important reasons: First, they add value, becoming a permanent, hand-crafted part of a home. Second, you can buy a piece of furniture at a store, but you can't buy a built-in.
Built-ins are a unique form of woodworking, sharing elements of furniture, cabinetry, and finish carpentry. Because the built-in is permanently attached to one or more of the walls, the floor, or the ceiling of a room, the design goal must be to make the built-in appear as an integral part of the room. That means matching and integrating the room's features, especially moldings, into the design. But a built-in also can stand out as a bold counterpoint to the design features of a room.
Either way, a successful built-in requires careful planning for its installation. Ideally, all of the finishing is done prior to installation. That, in turn, leads to a number of construction techniques specific to builtins, including modular cases, scribed edges, and reveals or V-grooves to conceal seams and joints where the cases or face frames come together.
This article follows the making of a built-in wall unit for a home office and includes many of the typical challenges that built-ins present, especially those that involve bookcases and cabinets.
No two rooms are exactly alike, so no two built-ins are alike either. It's rare to find room surfaces that are dead straight, let alone level and plumb. Yet a built-in must stand level and plumb if it's to look right and if the doors and drawers on the unit are to work properly.
Every built-in starts with a careful assessment of the room conditions, in addition to the obvious measuring of the space it will be built into. The key to success is to scribe parts accurately where they meet the walls, floor, or ceiling, which requires cutting those parts oversize.
For the full article, download the PDF below.
View PDF