All about lacquers
Understanding the characteristics of each lacquer will help you choose the right one.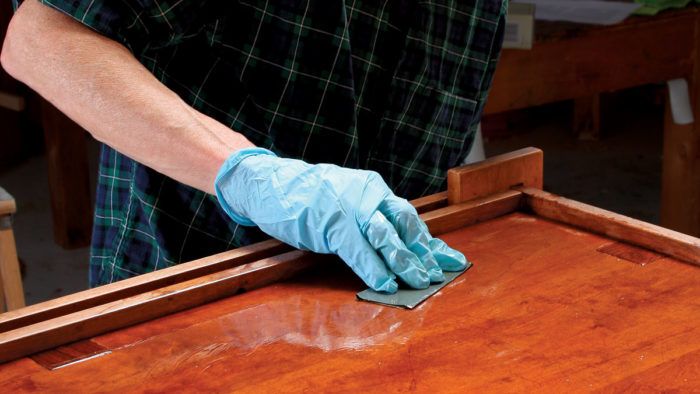 Lacquer is often regarded as the best all-around finish for wood. It dries quickly, and it's durable. There are several different types of lacquers available to woodworkers, but what goes into choosing the best one for your project? We're here to guide you through the process.
The basics
Nitrocellulose– Relatively inexpensive, quick drying, and the cured resins provide a reasonably good protective layer
Acrylic lacquer– Avoid the yellowing problems associated with nitrocellulose lacquer
Catalyzed lacquer– Hybrid reactive finishes that cure chemically, not solely through the evaporation of solvents
Nitrocellulose lacquer is made by mixing fast-drying solvents with wood and cotton pulp containing cellulose that has been broken down by nitric and sulfuric acid. Edmund Flaherty, a chemist working for the DuPont Chemical Company, is credited for inventing nitrocellulose lacquer in 1921. It was quickly picked up by Henry Ford for his mass-produced automobiles because finished cars could come off the assembly line faster. Not long afterward, nitrocellulose lacquer replaced shellac and oil-based varnishes and became the preferred finish and the industry standard for furniture and cabinet manufacturers.
The benefits for large and small production shops are considerable: nitrocellulose lacquer is relatively inexpensive and dries quickly. The cured resins provide a reasonably good protective layer of film over the wood. After the hard film cures, it rubs out well; and its slightly amber color enhances both light and dark woods with a warm, attractive patina. Also, because it is an evaporative finish, each new coat of lacquer blends into all the previous coats, making it easy to repair.
The disadvantages to using nitrocellulose lacquer are also notable. The film yellows as it ages, and it can eventually shrink to the point of causing cracks (often called crazing) to form in the surface. Although some versions are made and sold as brushing lacquers, you can obtain much better results by spraying it on; but the overspray is highly flammable. (The same ingredients that go into nitrocellulose lacquers are also used in the manufacture of some explosives.)
Because it dries so quickly, when applied under conditions of high humidity, the lacquer film can trap condensed moisture and cause the finish film to appear cloudy — a problem referred to as blushing. You can overcome that finishing obstacle by adding a slower-drying thinner, called a retarder, which allows the moisture to escape before it gets trapped in the film.
With the increased popularity of using unstained, light-colored woods (such as ash, birch, and maple), woodworkers and furniture manufacturers wanted to avoid the yellowing problems associated with nitrocellulose lacquer as it ages. The finishing industry responded by developing lacquers containing acrylic resins that are truly "water-white." Acrylic resins go on crystal-clear and stay that way over time. The most widely used of these products is called CAB-acrylic lacquer, made with cellulose acetate butyrate and acrylic resins.
CAB-acrylic lacquer dries to a less brittle and more flexible film than that of nitrocellulose lacquer. It is also more expensive. Otherwise, the working properties are much the same: it is best applied by spray equipment, diluted with regular lacquer thinner to obtain the ideal spraying viscosity, and it is fast-drying. CAB-acrylic lacquer is often used as a protective topcoat over colored pigment lacquers to make them wear better and to enhance their resistance to scratches.
Like many of the finishing products now available to hobbyist woodworkers, the development of catalyzed lacquers was driven by market demand from the production furniture and cabinet industries. They wanted a product with the same look and ease of application afforded by nitrocellulose lacquer, but one that would also offer much better water, chemical, and abrasion resistance. The coatings industry put their chemists to work and responded by creating catalyzed lacquers, which are hybrid reactive finishes that cure chemically, not solely through the evaporation of solvents. Catalyzed lacquers contain some nitrocellulose resins, but the addition of urea resins makes these products much more durable. The chemical cure is initiated when an acid catalyst is added to the mixture.
If you want to buy a catalyzed lacquer, you will be faced with the choice between either the pre- or the post-catalyzed version. Both of them have a limited pot life, based on when the catalyst is added. The manufacturers of pre-catalyzed lacquer add the catalyst either at the factory, or in the store at the point of purchase. If you buy a post-catalyzed lacquer, you will have to purchase the catalyst separately, in another container, and do the mixing yourself. When mixing your own, there isn't a lot of leeway for getting the proportions right; you have to be precise to end up with a finish that will cure properly.
Large, high-volume shops prefer the pre-catalyzed lacquers because their production cycles guarantee that they will use a predictable quantity over a given period of time. Buying the pre-catalyzed version saves them labor and time, and it eliminates the possibility of operator error in not mixing the correct proportions. Small shops usually prefer the post-catalyzed variety because they can mix what they need in smaller batches, avoiding the waste of having to discard the unused finish before it goes bad. Regarding the pot life, it will be affected by storage temperatures and the formulations vary among the manufacturers, so you'd be well advised to follow their instructions closely.