Get Started with Spray Finishing
Learn the basics, and get a high-quality finish fast—you may never pick up a brush again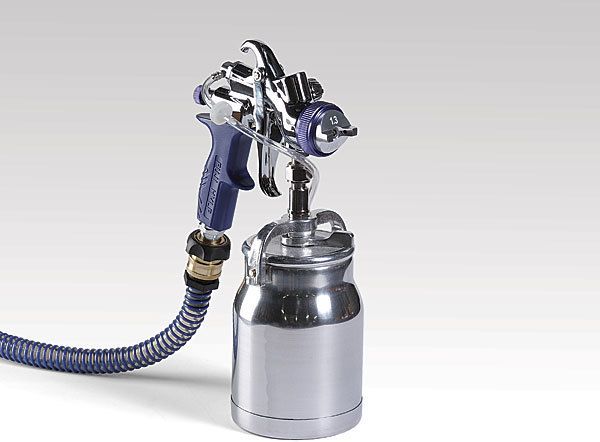 Synopsis: Spraying is a fast path to a great furniture finish, and new HVLP spraying systems come at a price that puts this finishing method within budget for many home shops. There is a learning curve involved, but it is not steep. Finishing expert Teri Masaschi tells you everything you need to know to get great results from these turbine-powered systems, from learning how to operate and adjust the spray gun's controls to proper spraying technique for different furniture parts.
As a professional finisher, I enjoy my work. But let's be honest. Not all woodworkers embrace finishing. That's because the job of brushing or wiping on a finish is time consuming and labor intensive. A faster path to a great-looking finish is to spray it. But the high price of equipment once limited the use of sprayers to commercial shops. Not anymore.
Recently, manufacturers have been rolling out quality high volume, low-pressure (HVLP) systems with a price that puts spraying within budget for many home shops (see my review of these systems, "Spray for Less," FWW #242). These turbine-powered systems do a superb job. Most come in a kit with everything you need to get going, and don't require much setup.
The biggest learning curve is mastering the gun—but don't worry. I'll tell you everything you need to know to get great results. we'll start with the gun's controls and how to adjust them, then move on to proper spraying technique. with practice, you'll soon be able to get a professional-quality finish, and get it done fast. once you've mastered your sprayer, you may enjoy finishing as much as I do.
What to spray and where
For a home shop in the garage or basement, water-based finishes are the only safe option to spray. Solvent-based finishes like lacquer and shellac are highly combustible and require a spray booth equipped with an explosion-proof fan. water-based finishes aren't nontoxic, just nonflammable, so wear a respirator mask and eye protection while spraying, and wear gloves when pouring finish and cleaning the gun.
You don't need a large space for spraying, but it should be clean, well lit, and have a way of removing the overspray. You can create a simple exhaust system by placing a normal box fan in a window or door to blow air out, with a furnace filter on it to catch the overspray. This will replenish your shop with fresh air, and keep those overspray particles from landing on everything in the shop, including your freshly sprayed surface. For instructions on constructing your own spray booth, check out "Make a Simple Spray Booth" by Jeff Jewitt (FineWoodworking.com/extras).
Learn the controls
If you've just pulled your new sprayer out of the box and are a little intimidated by all the shiny knobs, don't worry. It's not as complicated as it seems. There are three main controls on the spray gun: fluid volume, fan width, and fan orientation.
For the full article, download the PDF below:
View PDF