Gallery
a custom pool table from reclaimed lumber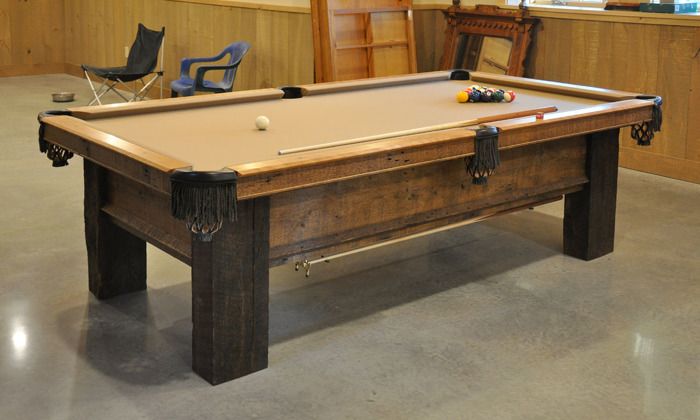 well, were on a roll this year with pool tables. this is our third one in the last four months. as you can see in photo 7, we actually had two going in the shop at the same time. our son will, (the banjo maker), pretty much built and installed this one on his own. i helped carry in the slates, but in most of this installation, since he had done all the work on it, i was the helper, not the guy in charge. it was a smooth installation, at a new house about two hours from the shop, and the floor was precisely and completely, 100% level. i don't believe i have ever had that happen before. bolt the frame together, add the slate support frame, put the straightedge and four foot level on it and bingo, perfect in all directions. on a polished concrete floor no less. master concrete folks, or 'win the lottery' type coincidence. again, we used the fine woodworking article by paul bowman from 1989 as our guide. i really should call that guy and thank him. for more photos and comments about the table in process, there are two posts on my dorset custom furniture blog. you can get to the first post from a link in that post. rack 'em up.
'post and beam' pool table
raw materials ... reclaimed hemlock beams
one of the 'inspiration' tables for this one. we built that one in 2005 or so.
the basic structure without the felt and rails
taping the rubber cushions onto the poplar and cherry rails
adding bondo to the leveled slates on site
leather pocket liner detail