Projects and Plans
A Cabinet for Hand Tools
Make the outside plain or fancy, but design the inside around your tools.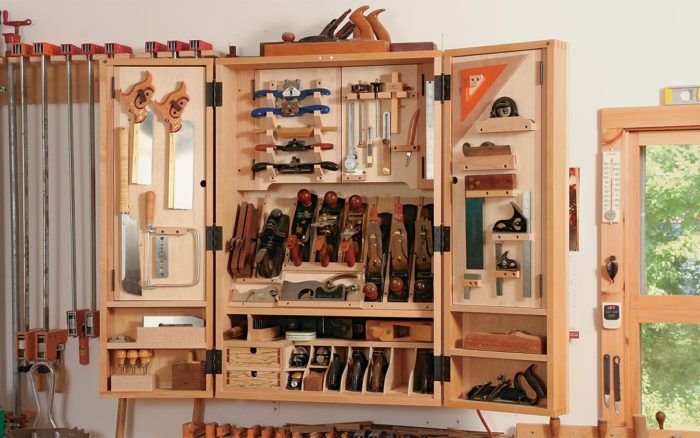 Synopsis: When planning a new hand-tool cabinet for his workshop, Mike Pekovich wanted to pack in more storage than his old cabinet without taking up more wall space. He accomplished this by making the new cabinet deeper and building the doors as shallow boxes instead of flat panels. He advises anyone building a tool cabinet to start with the tools, then design the cabinet around them. This one has a solid wood case with dovetails at the corners, and frame-and-panel doors mounted with mortised butt hinges. A custom-fitted plane till provides a home for each of Pekovich's coveted handplanes, and there's a space for all the other hand tools he uses regularly.
---
When I stop to think about it, I probably spend as much time in my shop with power tools as I do with hand tools. But when the dust and noise from milling parts finally settles and I head to my bench, that's when the fun begins—when I feel like I'm really woodworking. And that's why my cobbled together hand-tool cabinet was always the heart of my shop. Over the years, though, as my tool collection grew, I finally had to admit that I had outgrown my old friend and it was time to build a new one.
Space is limited in my shop, so I needed a way to pack more storage into the new cabinet without taking up more wall space than the old one. I solved the problem in two ways. First, I made the case deeper, giving me more room for handplane storage in the lower portion and enough depth for swing-out panels above. Also, I built the doors as shallow boxes instead of flat panels, an idea I borrowed from contributing editor Chris Becksvoort. These deeper doors combine shelf space for smaller planes and swingout panels for extra space to hang tools. After some careful design and layout, I now have all my hand tools in one easy-to-reach place—and the cabinet looks great, too.
Tools drive the design
Designing a tool cabinet can be a challenge. It's not just the number of tools. You have to figure out ways to store tools of varied sizes and shapes. Even a bigger cabinet would not have room for every tool I own, so I took a hard look at my collection to determine which tools I use regularly, which ones I use only occasionally, and which ones simply gather dust. I wanted to make sure that the tools I use most are always within easy reach; that the tools I use once in a while, like carving gouges, are stored in less accessible parts of the cabinet; and that the dust gatherers find a home somewhere else. By the way, I also built in a little extra space for new tools I have my eye on. To help with the design, I made a full-sized mock-up out of plywood scraps. This gave me a better idea of the space I had and how to use it to its fullest. To customize the cabinet for your tools, I'd recommend you do the same.
From Fine Woodworking #237
To view the entire article, please click the View PDF button below.
View PDF
Get the Plan
CAD-drawn plans and a cutlist for this project are available in the Fine Woodworking store.
Buy The Plan