Projects and Plans
Cedar Garden Bench
Learn how to build a casual outdoor bench that's quick to make and designed to withstand the elements without a finish.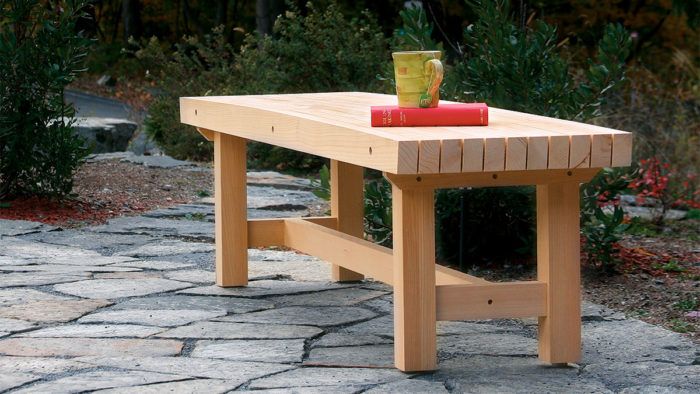 Synopsis: The goal with this bench was to build something beautiful that could withstand years out in the weather without a finish. So furniture maker Jessica Wickham began by choosing Port Orford cedar, a strong, exceptionally weather-resistant wood. Then she designed a bench with a thick trestle base and a seat made up of ribs that have a gentle arc on their top edge so water will run off. Along with stainless-steel hardware, this ensures a long life outside.
---
When I was asked to design a bench for a garden at the Chuang yen Monastery in Carmel, N.Y., my goal was to build something beautiful that would age gracefully outdoors. My first step was to pick a wood that could withstand years in the weather—even without a finish.
My thoughts traveled to the magnificent wooden buildings I had visited in kamakura, japan—a historic city brimming with meticulously crafted wooden temples that are hundreds of years old. In japan, a common wood used for temple and bathhouse construction is hinoki, an indigenous, fragrant variety of cypress that is particularly resistant to decay. It was used to build the Horyu-ji temple outside of nara, japan, which is just over 1,300 years old and still in daily use.
Hinoki isn't available in the united States, but an excellent substitute is Port orford cedar, which is strong, light, exceptionally resistant to decay, and beautiful when left to age in the weather. It's what I used to build the benches for the temple. I left them unfinished, and after one year in the sun, rain, and snow, they're looking great.
As for the design, I was striving for a minimalist but elegant bench that would sit beautifully in the monastery's garden. I settled on a trestle base with thick legs and a single stretcher connecting the two ends. The seat is made of ribs that have a slight curve on their top edge, and beveled ends.
In my shop, my employees and I work together to build furniture. I teamed up with nic Meehan on this bench, and we'll show you how to make it. It's actually quite easy.
Gentle arc sheds water
My first goal for the seat was to ensure that it could withstand the vast changes in weather that it would experience. Temperatures in Carmel run from extremely hot to extremely cold, and there's plenty of rain and snow. This is why I chose to make the seat from a set of 11 ribs shaped in a subtle arc. The arc encourages water to run off the seat toward the ends, where a bevel causes it to drop to the ground (rather than run down the end grain as it would if the ends were square). Spacers between the ribs create openings that help with drainage, too. Three threaded rods run through the ribs and spacers to keep the seat together. Start the build by making a template routing jig for the seat ribs. Use the template to trace the shape on each rib. Rough out each rib at the bandsaw, then clamp it into the template jig to rout it flush. Because the ribs are 11⁄2 in. thick, you'll need a pattern bit with at least that much cutting length.
For the full article, download the PDF below:
View PDF