Projects and Plans
A Garden Bench for All Seasons
Ward off the weather with Spanish cedar, marine epoxy, and copper rivets for a bench built to last.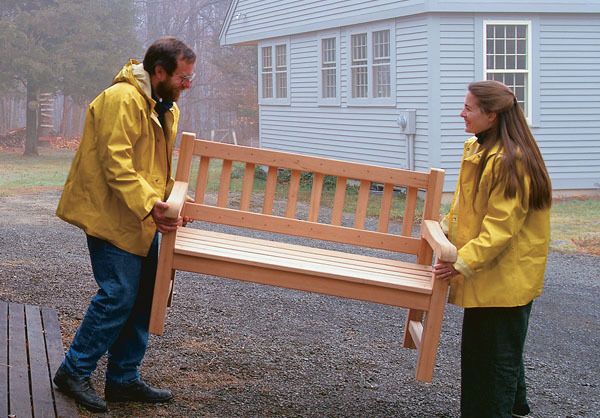 Synopsis: David Snediker designed his wife's garden bench with an eye to damp weather and little maintenance. He made it from 6/4 Spanish cedar to cut the price, which involved laminating some parts – helping improve the bench's strength. He chose copper rivets and marine epoxy to help the bench last, too. He used thin back slats to avoid vertical mortises and give the back some depth, and he shares his method for arriving at fair curves for the arms and seat stretchers. The article includes construction notes and a detailed project plan, as well as side information about copper rivets.
Every spring, when the gardening catalogs arrive in the mail, I know it's about to happen again. My wife will leave the catalogs open, turned to the pages with the garden benches, and she'll ask me to make one for her. This has gone on for years now, and finally, this spring, she hit me with an ultimatum. "Build one, or I'm going to buy one," she said. Fair is fair. I am a boatbuilder, and she had been asking for years. I'd built myself a fishing boat and a couple of doghouses for Pete and Copper. It was time to build a bench.
When I got to the planning stage, I decided my garden bench—our garden bench—wouldn't have any vertical mortises to catch and hold rainwater, and I'd use copper rivets to fasten any mechanical connections. The bench would have a coved seat and a comfortable cant to the back. I wanted the seat height to be lower than the conventional 18 in.; my thought was that a 16-in. seat height would allow people to sit on the bench in a relaxed position. The bench would be held together with marine epoxy (see the box on pp. 54-55) and made from a maintenance-free wood that would weather to a salty gray in our seacoast town of Mystic, Conn.
Send your kids to college, or make a bench from teak
Last year, I replaced a 22-ft section of rail on one of the Coast Guard's training vessels. I used teak, and the cost of the wood alone was $4,000. I'd recently bid on a job to replank a sloop with mahogany. The best price I could find for pattern-grade mahogany was $5.54 a board foot. Teak and mahogany are without a doubt very good marine woods, but I wanted to find something less expensive for the garden bench.
Spanish cedar was the answer. It's about half the cost of mahogany, a quarter the price of teak and its weather resistance is superb. Spanish cedar grows in Mexico and Central America, and it is more closely related to mahogany than it is to cedar. It has a color similar to mahogany and working properties similar to pine, although it's not nearly as soft as pine. It holds a crisp edge and glues up well. Unfortunately, Spanish cedar's popularity as a wood to make humidors has driven up the price. I've seen Spanish cedar advertised for $15 per board foot; I got mine for less than $3 per board foot from a lumberyard that caters to boatbuilders.
From Fine Woodworking #130
For the full article, download the PDF below:
View PDF