Build an heirloom box
Make drawers with uninterrupted burl and banding.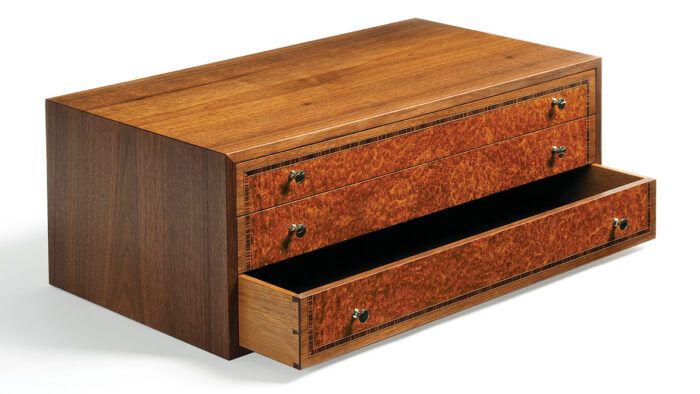 Synopsis: This box is like a little chest of drawers, with a front field of burl veneer surrounded by crossbanding and a frame. The drawer fronts are ripped from this veneered panel and there are no dividers to interrupt the flow, so what you see is a single front panel but what you get are drawers. To make it work, the drawer fronts extend below their sides on the top two drawers, and the runners double as drawer stops.
---
This piece began with an itch to make a small case of drawers whose fronts would be the focal point. A field of amboyna burl veneer (my nod to the French Art Deco designer Émile-Jacques Ruhlmann) surrounded by kingwood crossbanding and a perimeter frame of walnut veneer do the job wonderfully. To simplify making the drawer fronts, I veneered and banded one large solid walnut panel and ripped the fronts from that. Drawer dividers would have interrupted the fronts' flow, so I dispensed with them. Instead I designed the top two drawer fronts to extend below the drawer sides. That filled the space created by the runners and allowed the runners to act as drawer stops. The bottom drawer rides on the case bottom.
The box itself is fairly simple to build, so I will focus on making the panel that forms the drawer fronts. To learn more about the box construction, check out FineWoodworking.com/291.
3 drawer fronts, 1 panel
Making the drawer fronts as one panel and then ripping them free allows for a really clean, dynamic design, but it also requires some forethought. Because the fronts are veneered and inlaid as one piece, then ripped into three separate boards, it's crucial when sizing the panel to include enough width for two extra kerfs. You'll also want to add 1/8 in. extra all around so you can fit the panel to the carcase before ripping it apart.
For the field I prefer a veneer pattern with visual outward movement. Using four successive sheets from a flitch of veneer, you can make a four-way book-match that will suit this shape well.
Once you've marked your desired book-match, gang up all four pieces on the bench. Then hold a heavy caul on top and use a sharp veneer saw to slice through all four veneers. Be careful not to chip out the corners as you finish the cut. You may need to clamp the veneers between two cauls and sand mating edges straight to get a good glue joint.
To view the entire article, please click the View PDF button below.
For more box projects, check out our Boxes Project Guide.
View PDF