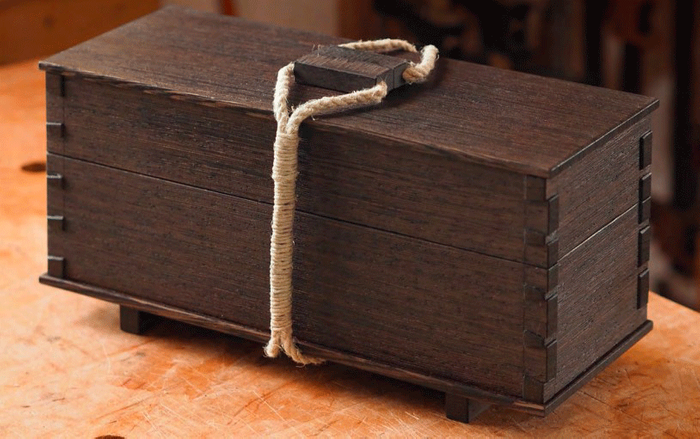 Fine Woodworking Project Guides
Boxes
These small projects are packed with woodworking lessons.
A wooden box may be the ideal learning tool for a woodworker. It's a great opportunity to practice and develop a new skill—whether it's joinery, surface prep and decoration, or finishing—all while using up valuable scraps in the shop. Plus a box is a project that can be finished pretty quickly, whether it's for you or a gift for a friend or loved one. In this guide you'll discover clever box designs by some of the most popular box makers around. Practice joinery skills with dovetailed and mitered boxes. Set your design eye free with one-of-a-kind bandsawn boxes. Learn to carve and add texture. Discover the magic of milk paint. It's all here, along with more than a dozen box designs to make.
Box-Making Fundamentals

Boxes may be small, but they are a great way to build up your woodworking skills. These projects are filled with challenges. In this chapter our experts will talk about the basics of box design, and what makes a box such a special project to build. They will also reveal their secrets to holding small parts—from machine jigs to bench jigs—to adding lids that fit perfectly, and installing hinges and locks without headaches. Finally, you'll get a chance to build some entry-level boxes to get you started.

Mitered Boxes

Mitered boxes are one of the most popular box styles: They are quick to make, and they allow you to wrap continuous grain around all four sides of a box. While there's nothing quite so simple as a miter joint, they can be frustrating to cut and fit accurately. This chapter shows you how to get perfect miters every time and how to reinforce the box corners with splines and keys. You'll also be able to develop your boxmaking skills with a half-dozen, start-to-finish box projects designed and built by the pros.

Dovetailed Boxes

The dovetail joint is prized by boxmakers and furnituremakers alike for its strength and bold beauty. Haven't cut a dovetail yet? Start with a box. It is the ideal project to advance your dovetailing skills. Once you learn the fundamentals, you can experiment with different layouts. You can make them stand proud or be flush. And you can cut them by hand or machine. This chapter will launch your journey of creating unique dovetailed boxes of your own design.

Veneered Boxes

Veneering opens up a whole new world of box making, allowing you to decorate boxes with inlay, marquetry, beading, and more. Whether you're veneering just the top panel with a dramatic-looking book-matched veneer or covering the entire box with a more complex parquet pattern, veneer can really bring your box to life. Use whatever joinery method you like to build the box and then simply veneer over it. You'll find plenty of eye-catching designs for inspiration in this chapter, so why not take your box making to the next level?

Bandsawn Boxes

Making a box using a bandsaw can be a liberating experience. You don't have to live with square and flat—instead, you can celebrate curves and textures, angles and facets. There are no rules. You can create a box on a whim, designing it around a prized block of wood. This chapter is sure to give you the inspiration to try. You'll get down and dirty techniques that guarantee success, but the techniques do not limit your creativity. You can expand the basic steps to create one-of-a-kind boxes for friends and family.