How-To
Beautiful Bandsawn Boxes
How to build seamless boxes from a single block of wood.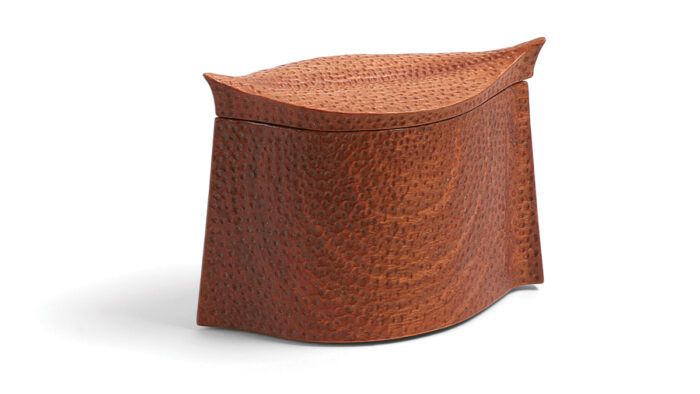 Synopsis: Bandsawn boxes are quick to make, requiring no measuring, no joinery, and almost no planning. Yet they are impressive to look at and are a great place to explore your creativity. Michael Cullen explains how to make two kinds of bandsawn boxes, one with two walls that meet in a point at each end, and the other with four walls and rectangular form. Each type starts with a block of wood, a bandsaw, and an imagination.
---
I build a lot of furniture—often complex, exacting pieces carefully mapped out in scale drawings. Some years ago I began making bandsawn boxes as a way to relieve the tension of working on such long, demanding projects. The boxes are quick, requiring no measuring, no joinery, and almost no planning. They welcome creativity, opening a door to limitless variations of form and embellishment. And most of all, they are fun. I can grab a piece of scrap, make a fast pencil sketch right on the wood, and work freehand at the bandsaw to create a box in no time.
I've always admired Shaker boxes, with their combination of good form and minimal material making a container that is lightweight, strong, and elegant. My goal with bandsawn boxes is similar: to push the limits of the material without compromising strength or function—and wind up with something beautiful.
I cut the boxes from a single chunk of wood, sawing it apart and then gluing it right back together with some parts removed. This makes for perfect grain matches and no issues of wood movement. I cut a tapered plug from the center of the blank, which I use to make a perfectly fitting bottom to the box as well as a keeper that holds the lid in place.
I make two types of bandsawn boxes. One has two curved walls that meet in a point at each end. The other is a four-walled, rectangular form. Almost all the steps for making the two types are the same.
To make the two-walled box, start with a thick block of wood: 12/4 or 16/4 stock is optimal. Some of my favorite species for bandsawn boxes are basswood, walnut, mahogany, maple, and cherry. I carve and milk-paint many of my boxes, but I leave some unadorned.
Flatten the top and bottom of the blank, making the surfaces parallel. The sides don't have to be milled, but the glue-up will be easier if they are not too uneven. There's no required size for a blank, but one about 8 in. long by 4 in. wide by 3 in. or 4 in. tall would be good for a first try.
From Fine Woodworking #250
For the full article, download the PDF below.
View PDF