Foolproof Surface Prep
Working systematically, Bob Van Dyke demonstrates how to remove mill marks and tearout with a scraper, break sharp edges and corners with a block plane, and sand to an even finish with sandpaper.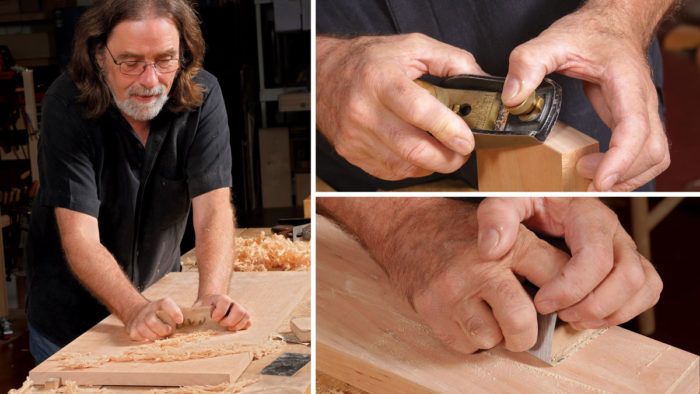 Synopsis: There are a number of ways to achieve the flawless surfaces you need for any woodworking project, but this method is fast, reliable, and foolproof. All you need are a card scraper, a sharp block plane, and a few sheets of 320-grit paper. Working systematically, you'll remove mill marks and tearout with the scraper, break sharp edges and corners with the block plane, and sand to an even finish with the paper.
---
Careful surfacing is critical to the final look of any project, as even minor defects, from mill marks to tearout, will jump out as soon as finish is applied. I typically start this work on a piece by using a finely set smoothing plane because it's quick and leaves a flat surface. But I follow that with a card scraper where necessary and 320-grit sandpaper to blend and smooth the whole surface. A smoothing plane is a great tool, but it requires a considerable learning curve—not only to use effectively but also to sharpen and keep finely tuned. And even then, there are some woods that are close to impossible to plane well.
Another option is sanding up through the grits, a perfectly acceptable method widely used in commercial work. However, a good job takes more time and skill than many people realize.
Secrets for Better Sanding
Learn the right way to random-orbit
sand in Part I of our 3-part video series
on sanding and surface prep
Fortunately, there's a third way to achieve a shimmering, glasslike surface. With just a simple card scraper, a sharp block plane, and 320-grit sandpaper wrapped around a sanding block, you have a reliable method that's fast and nearly fail-proof.
Scrape and sand faces and edges
I usually start with the faces of a workpiece. This is the biggest part of the job and requires the most time— and a bit of finesse. The scraper makes quick work of surface defects, but it leaves a fairly rough surface. Following up with 320-grit sandpaper eliminates that roughness and reveals areas I missed while scraping, thanks to the fine sawdust that gets trapped in any defects.
From Fine Woodworking #279
To view the entire article, please click the View PDF button below.
---
| | |
| --- | --- |
| | A step-by-step guide to tuning and sharpening this versatile smoothing tool. |
| | Smart techniques for using this essential smoothing tool |
| | |
View PDF