Sanding, really really up-close
Scanning electron microscope reveals secrets of success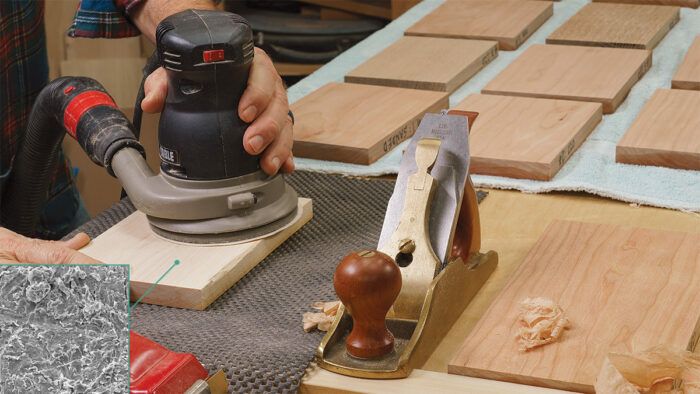 Synopsis: How does hand sanding differ from random-orbit sanding? If cross-grain sanding is bad for a wood surface, why isn't random-orbit sanding also bad? These questions and more were at the heart of Paul Axelsen's quest for a really really up-close look at sanding, as viewed through a scanning electron microscope. The things he learned were eye opening.
---
Whether you view sanding as a tedious chore or a labor of love, a closer look at the process will help you give your next project a beautiful look and feel. In this case, I mean a much closer look, with a scanning electron microscope (SEM).
As a scientist, I use an SEM quite often, to examine everything from microorganisms to medical devices. As a woodworker, I decided to use this powerful tool to answer a long-standing question I've had: If cross-grain sanding makes a mess of a wood surface, why is it that a randomorbit (RO) sander—with scratches going in every direction—doesn't do the same?
When I sent my initial results and conclusions to Fine Woodworking, the editors suggested a number of related questions to explore with SEM photography. Among the questions were how hand-sanding differs from random-orbit sanding, how hand-planed surfaces differ from sanded ones, and how fine a grit one should sand to for best finishing results.
Prepping samples
My editor, Asa Christiana, and I sanded a number of hardwoods with an RO sander, keeping a shop vacuum attached, and applying gentle, even pressure to the sander. The surfaces were brush-vacuumed and rubbed lightly with a tack cloth after each grit, to make sure that the SEM images would reveal the surface of the wood, not loose sanding dust.
To create samples that would fit in the microscope, I punched out small chips, and then coated them with an ultrathin layer of gold and palladium, which plays an important role in how the SEM works.
The SEM scans the surface with an electron beam much like those in old cathoderay television tubes, and the super-thin metal layer reflects the beam back to a detector to create a crisp, black-and-white image. Although an SEM can easily magnify to 1,000,000x, the effects of sanding were best seen at magnifications between 20x and 500x.
While we weren't able to reach definitive answers to each question we explored, our efforts yielded very instructive results. Aside from examining the SEM images, we also learned a lot simply by sanding, touching, and viewing so many samples.
---
Scores of samples
We prepared many samples for micro-photography, in a wide range of woods using a random-orbit sander, sanding by hand, and surfacing with a hand plane.
---
How RO sanders work
The SEM revealed that the abrasive grains in RO sanding disks are compact in shape and relatively uniform in size, with sharp edges, and are partially embedded in a layer of adhesive. It also enabled me to measure the size of various abrasive grains.
Then I began looking at samples of random-orbit-sanded wood, viewing them at a wide variety of magnifications.
Thousands of tiny arcs—One of the most important things I noticed is that the gouges created by random-orbit sanding tend to be tiny arcs, not complete loops, likely because the chiseling action of each grain tends to be more effective in some directions than in others.
As expected, the radius of each arc corresponds to the radius of the eccentric bearing in the sander, which causes the disk to oscillate 12,000 times per minute. The disk also rotates at the same time—much more slowly than it oscillates—which is why each grain creates a new gouge, in a new location, with every oscillation.
—Woodworker Paul Axelsen is a professor of medicine, pharmacology, biochemistry, and biophysics at the University of Pennsylvania.
Photos, except where noted: Asa Christiana.

Micro-photos: Paul H. Axelsen.
For more photos and information, click on the "view PDF" button below:
| | |
| --- | --- |
| | Random-orbit sanders are not as foolproof as they seem. |
| | We test sanders from Festool, Mirka, Ridgid, Ryobi, Porter-Cable, Dewalt, Bosch, Black & Decker, and Craftsman at Sears |
| | Learn the right way to random-orbit sand in Part I of our 3-part video series on sanding and surface prep |
View PDF