How to Create Kumiko at the Tablesaw
Smart jigs simplify this complex design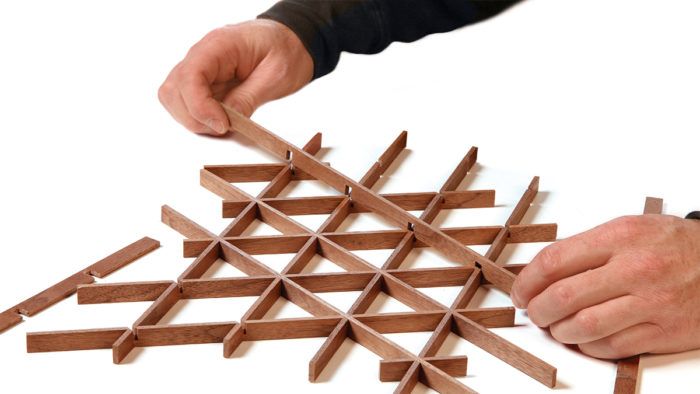 Synopsis: Captivated by Japanese kumiko latticework but looking for a simpler way to accomplish it? Mike Farrington has solved that puzzle with a tablesaw sled that makes the complex, interconnecting joinery quick and repeatable. Paired with a couple of planing jigs, this technique will put kumiko within your reach quickly, and after trying it a few times, you will be hooked.
---
I was first captivated by Japanese kumiko latticework on the back cover of FWW #226, which featured a stunning cabinet by John Reed Fox. Fox's piece had a pattern known as asa-no-ha, based on a square grid with 90° lap joints. (Michael Pekovich covered the how-to for that pattern in a Master Class in FWW #259.) After figuring out the square design, I explored others and found that many of my favorites are built on a grid of equilateral triangles.
While triangular gridwork is more challenging to produce than a 90° lattice, I developed a simple tablesaw sled that makes the complex joints quick and repeatable. I also use a planing jig so that each strip will have a uniform thickness—especially important with this three-way joinery. The infill pieces are more straightforward, made easy by a couple of planing jigs very similar to those Pekovich uses. Using this approach, you'll produce gridwork and infill so clean and snug that it doesn't need glue (though I do use a tiny bit). The kumiko process is fun and fulfilling, which is probably why the craft has survived for centuries. There still is a learning curve. Don't give up. Your first attempt will be rough, the second will be better, and by the third you'll have nailed it.
A word about design and wood
The foundation of any kumiko pattern is the gridwork, which can be scaled to suit everything from large shoji screens down to door panels, lamp shades, and coasters.
The main variable is the pitch, which is the distance between the lap joints. A pitch of 2 in. to 3 in. is a good starting point for most projects. Another variable is the thickness of the strips, which is tied directly to the kerf of the sawblade used to make the three-way joints. Blades that are full-kerf (1/8 in.) and thin-kerf (typically 3/32 in.) both work great. For larger patterns, you might choose a two-blade stack, or a thick blade made for joinery. As for the width of the strips, 1/2 in. is a good rule of thumb.
Kumiko looks best with woods that are lighter in color with straight grain. Quartersawn or riftsawn material is best, with tight, subtle grain. I often use maple, but I've had success with fir, alder, walnut, and cedar, too.
From Fine Woodworking #274
To view the entire article, please click the View PDF button below.
---
More on Finewoodworking.com:
View PDF