Spice up your work with kumiko
Learn how to enhance your furniture with this Japanese latticework technique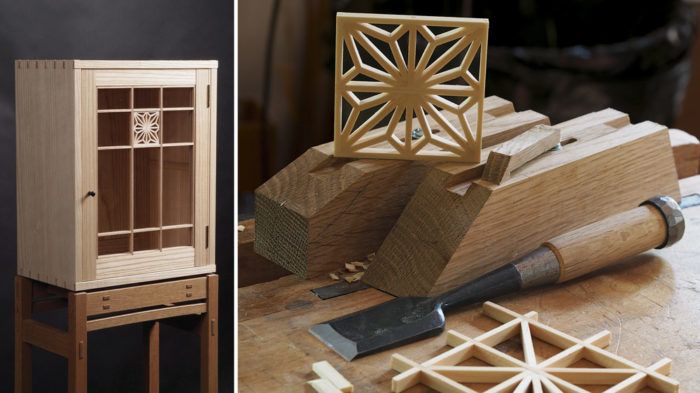 Synopsis: Learn how to enhance your furniture with this Japanese latticework technique. Mike Pekovich makes the half-lap grid at the tablesaw and handles the rest of the work with a sharp chisel and a beveled guide block.
The Japanese latticework technique of kumiko is traditionally found on shoji screens, but it is making its way into contemporary furniture as well. The furniture of John Reed Fox inspired me to incorporate kumiko into my own work, and I've used the technique in a number of pieces over the last two years, from boxes to cabinets to case pieces. My process has evolved over that time. I make the half-lap grid at the tablesaw and handle the rest of the work with a sharp chisel and a pair of beveled guide blocks.
Making kumiko requires precise work, but I don't find it tedious or boring. I actually look forward to the quiet bench time the process affords, and the result is always a nice addition to a project. I hope this article demystifies the process a little and encourages you to give it a try. For design inspiration and more information on shoji and kumiko, I recommend the excellent books Making Shoji by Toshio Odate and Shoji and Kumiko Design by Desmond King.
Start with a simple design
This article focuses on the asa-no-ha, or hemp leaf, pattern. It begins with a half-lap grid of pieces, or bars, that create four squares. Parts are then beveled to fit into the squares, creating the pattern. I make the bar grid using a finger-joint jig clamped to a tablesaw crosscut sled. The distance between the indexing pin on the jig and the sawblade determines the size of the grid.
I typically use 1 ⁄4-in.- or 1 ⁄2-in.-wide basswood or pine for the bars. Start by milling two pieces of stock to thickness. Then cut the notch for the halflap joints in one blank before ripping both into individual bars. The bars should fit snugly into the dadoes. I've planed the bars to final thickness in the past, but I find that a sharp thin-kerf blade leaves a clean surface that doesn't require sanding or planning.
Guide blocks are the key to accurate chisel work
While the design looks complex, it consists of only three uniquely sized parts. The key is repeatability when making them. The ends of each part must be bevelled at a specific angle, and the parts must be of consistent length. To tackle the job, I use a pair of bevelled guide blocks with ends cut to various angles. A groove along the top holds the stock, and an adjustable stop sets the length of each part.
For the full article, download the PDF below:
View PDF