Silas Kopf: Majoring in Marquetry
A master of marquetry, Kopf is self-taught, learning mostly from a book and through trial and error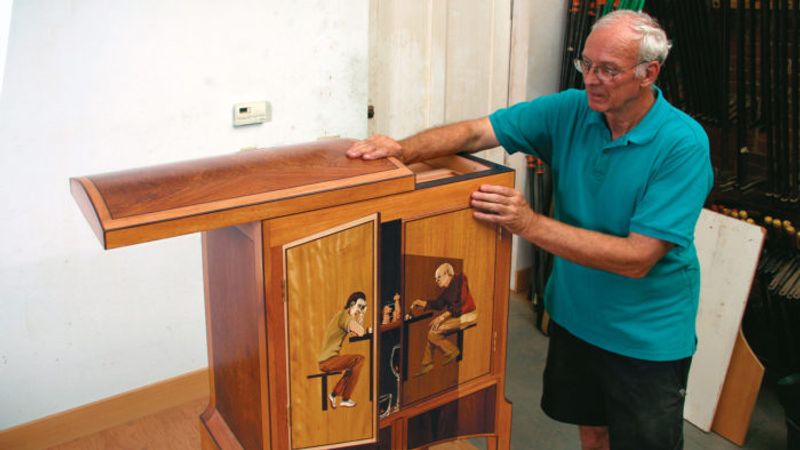 Jon Binzen
Originally published September 26, 2012, updated October 19, 2018
Silas Kopf got out of college in the early 1970s and thought he would retreat to the woods of northern Maine and make simple, solid-wood furniture, perhaps with a Shaker flavor. He never made it to the woods, and certainly veered from the Shaker aesthetic. Over the past four decades he has specialized in building furniture decorated with marquetry.
He is self-taught in marquetry, learning mostly from a book and through trial and error. But ten years into his career he was deeply influenced by Italian Renaissance intarsia, a combination of inlay and marquetry practiced in the 15th century. Kopf traveled to Italy to see the work in person, which features convincing optical illusions. Kopf is now well known for his own trompe l'oeil, or fool-the-eye compositions.
Kopf later traveled to France to study marquetry for several months at the Ecole Boule, a school that teaches traditional furniture making skills. While there, Kopf was introduced to the work of Abraham and David Roentgen, German father and son cabinetmakers who built furniture for monarchs and the aristocracy in the 18th century. The Roentgens embellished their furniture with superb marquetry, but they were also known for the structural complexity of their case pieces, which incorporated hidden compartments and mechanisms that enabled the pieces to be reconfigured. Kopf's cabinet on the back cover of the current issue, with its many secret drawers, is a tribute to the Roentgens.
Kopf has written a book about his work and his influences, and has also produced a dvd describing his techniques for doing marquetry. Both are available through his website, www.silaskopf.com
More on FineWoodworking.com: