Repetitive-Motif Marquetry
French technique permits multiple identical images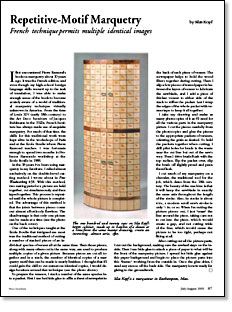 Synopsis: From Louis XIV to the Art Deco furniture of Jacques Ruhlmann in the 1920s, French furniture has used exquisite marquetry. Silas Kopf spent two months at the Ecole Boulle studying marquetry techniques and has incorporated marquetry into his furniture for decades. He uses a double-bevel cutting method and a traditional French tool called a chevalet to cut much of his marquetry. Here, he explains the method of cutting multiple stacked pieces of veneer at the same time.
I first encountered Pierre Ramond's book on marquetry about 10 years ago. It was the French edition, and even though my high-school foreign language skills weren't up to the task of translation, I was able to make enough sense of the book to become acutely aware of a world of traditional marquetry technique virtually unknown in America. From the time of Louis XIV (early 18th century) to the Art Deco furniture of Jacques Ruhlmann in the 1920s, French furniture has always made use of exquisite marquetry. For much of that time, the skills for this traditional work were kept alive in the workshops of Paris and at the Ecole Boulle where Pierre Ramond teaches. I was fortunate enough to spend two months in Professor Ramond's work'shop at the Ecole Boulle in 1988.
In the 18 years I've been using marquetry in my furniture, I relied almost exclusively on the double-bevel cutting method I wrote about in Fine Woodworking #38. With this method, two mating parts for a picture are held together, cut simultaneously and then taped together. This process is repeated until the whole picture is completed. The advantage of this method is that the joints between pieces come out almost effortlessly flawless. The disadvantage is that only one picture can be made at a time (see the photo on the back cover).
One of the techniques taught at the Ecole Boulle that intrigued me most was the traditional method of cutting a number of stacked pieces of an individual species of veneer all at the same time. Then those pieces, along with many others cut in the same way, are used to produce multiple copies of a given picture Because pieces are cut all together and in a stack, the number of identical copies of a marquetry motif that can be made is nearly limitless. I thought that if I could gain the skill to cut numerous identical copies, I would design furniture around that technique (see the photo above).
From Fine Woodworking #101
View PDF