Blog
How to Measure a Chair
NBSS instructor Steve Brown demonstrates how to create full-size drawings from an original chair.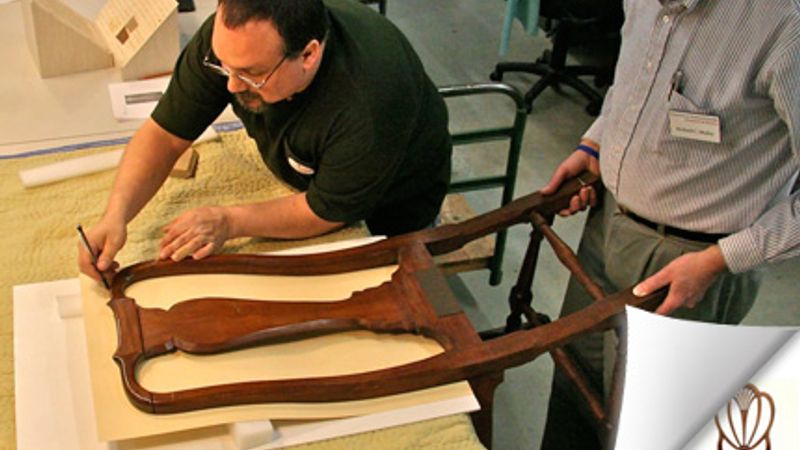 Fine Woodworking
Originally published February 10, 2011, updated August 24, 2018
An education in craftsmanship. That's how Boston's North Bennet Street School describes the experience it offers its students. With programs ranging from violin making to restoration carpentry, the 126-year-old school ranks among the premier institutions in the world for learning a traditional craft.
Steve Brown is a teacher in North Bennet Street's Cabinet and Furniture Making Department, which places a strong emphasis on learning how to make furniture by studying and reproducing outstanding period pieces. Brown and his fellow instructors regularly take students to museums to examine furniture, and in this slide show Brown takes the viewer along with him to one of his favorite museums for such trips–the Connecticut Historical Society Museum and Library, in Hartford.
The museum has an extensive collection of period furniture and a welcoming policy toward woodworkers, researchers, and others interested in seeing museum-worthy period pieces up close. Set up with a Queen Anne side chair by Rich Malley, the museum's head of research and collections, Brown shares many of his techniques for recording the critical dimensions, shapes and construction details of a piece of furniture.
Brown went through North Bennet Street School himself in the late 1980s and has been a teacher there for over a decade. In between, he spent 8 years working for Phil Lowe, a frequent Fine Woodworking contributor and a winner of the Society for American Period Furniture Makers' Cartouche Award for lifetime achievement.
Steve Brown's heartback side chair, which is on the back cover of Fine Woodworking issue 218, was the last project he worked on as a student at the school. He is currently building a second version.
More on FineWoodworking.com:
Learn the secret to Steve Brown's beautiful period reproductions.