Cabinets: Our favorite articles
A roundup of our top articles from Matt Kenney, Clark Kellogg, Garrett Hack, Michael Peckovich, and others on wall cabinets, cabinets on a stand, and more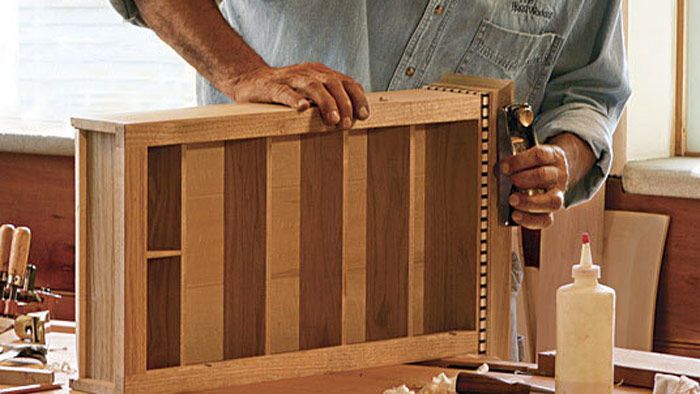 Our editors have sorted through our archives for their favorite articles and videos on cabinets. Featured below are various project plans and video workshops showing you how to make curved wall cabinets and cabinets on a stand, like the popular Krenov cabinet on a stand.
Mario Reodriguez's video workshop is perfect for beginner and intermediate woodworkers to learn how to use dovetails, mortise-and-tenons, dadoes, and biscuits to build a hanging wall cabinet. Garrett Hack also shows you how he uses sliding dovetail case construction to build a small, sturdy cabinet ideal for hanging, but also suitable for standing. In addition to the core seven articles and videos featured below, we have also included a bonus article on how to hang a cabinet on a wall.
---
Synopsis: In this video workshop, Matt Kenney shows you how to add vacuum press veneering to your woodworking skill set by building a bowfront cabinet that features a subtle curve on its flush front and a beautiful mix of cherry, Douglas fir, and cocobolo. You'll learn how to make shop-sawn veneers for curved doors and drawers, and a few joinery tricks for making drawers with curved fronts. This wall cabinet might be small, but it's chock-full of great techniques that open up a new world of woodworking.
by Matt Kenney
---
Synopsis: This wall cabinet has curved doors, tapered dividers, and an intricate frame-and-panel back, and it's those details that make it sweet. Clark Kellogg shapes the doors first, then builds the cabinet to match them, cutting curves in the top and bottom to fit the curves in the doors. Slip tenons or Dominoes are his joinery choice. The frame-and-panel back follows the lines of the cabinet, including the interior drawers, and adds a lot of interest.
by Clark Kellogg
---
Synopsis: In this video series, learn to make a strong, attractive wall-hung cabinet like this one by Garrett Hack. The smart sliding-dovetail case construction creates a very sturdy cabinet and makes it easy to attach decorative moldings. Hack's unique design also includes an unorthodox face frame that blends seamlessly into the case. The face frame makes shelf construction is easier since you can run through-dadoes for the shelves. Although best for hanging cabinets, this design works for standing cabinets as well. Also, check out the article version of how to build this cabinet.
by Garrett Hack
---
Synopsis: Joinery takes center stage in this cabinet-on-stand. The base and case are made with contrasting woods, but the straight grain of the riftsawn stock unifies the two. An apron and rail on each side of the case make for a strong, light-looking base. A wide upper front apron paired with a narrow lower rail accomplishes the same objective. The base is joined with through-mortise-and-tenons, lightened with tapers and curves. Latticework on the front door dresses up the dovetailed cabinet on top.
by Michael Pekovich
---
Synopsis: The cabinet-on-stand form popularized by James Krenov uses familiar construction methods such as mortise-and-tenon joints, dowels, and bridle joints. What makes this article special are all the lessons and details Jim Budlong adds, learned in years teaching side-by-side with the master. For example, he starts with the doors and then builds the case to fit them. The doors are joined with attractive, simple bridle joints, and divided glass panels dress them up even more. The carcase is joined with dowels, which makes it easy to dry-assemble to ensure a perfect fit with the doors. The legs are shaped on the bandsaw and refined with hand tools.
by Jim Budlong
---
Synopsis: This attractive wall-hung shelf was inspired by a piece in a magazine that reminded furniture-maker Nancy Hiller of classic British Arts and Crafts design. Her version gets rid of the doors to put the contents of the shallow shelves on display – an appealing choice given all the beautiful quartersawn white oak in the piece.
by Stephen Scott
---
Synopsis: In this video workshop, Mario Rodriguez demonstrates how to build this hanging wall cabinet. It's a great project for beginning and intermediate woodworkers. The construction involves making several types of joint: dovetails, mortise-and-tenon, dadoes, biscuits. Rodriguez makes this cabinet from cherry, but you could use maple, oak, or other hardwoods.
by Mario Rodriguez
---
Synopsis: In her narration to this slide show, FWW associate editor Anissa Kapsales explains that some hang-up methods are ideal for solid-back pieces, while others are tailor-made for open shelves. Whatever type of hanger you choose, make it part of the plan from the beginning. It can influence the thickness of parts, the construction, and the overall design. Take a look at six ways to hang your work securely so that it's flush against the wall. The methods range from screws driven through a mounting rail that's part of the cabinetry to two types of French cleat. In-between are keyhole slots and hangers, which provide slots that capture the mounting screws.
by Anissa Kapsales