Display Cabinet on a Stand
Eye-catching details and contrasting woods make this a case to remember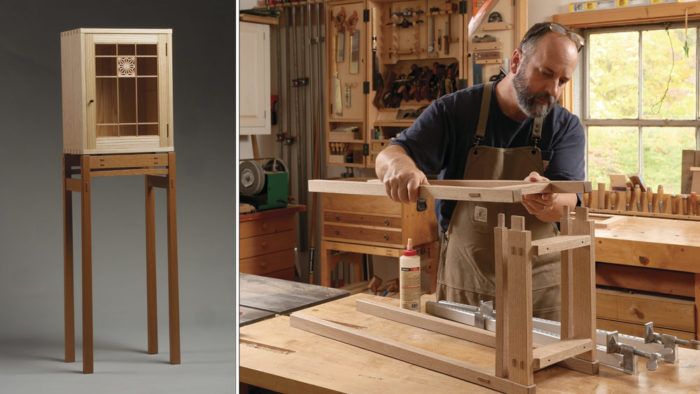 Synopsis: Joinery takes center stage in this cabinet-on-stand. The base and case are made with contrasting woods, but the straight grain of the riftsawn stock unifies the two. An apron and rail on each side of the case make for a strong, light-looking base. A wide upper front apron paired with a narrow lower rail accomplishes the same objective. The base is joined with through-mortise-and-tenons, lightened with tapers and curves. Latticework on the front door dresses up the dovetailed cabinet on top.
I first came across the writings and work of James Krenov while in college, and they have influenced my approach to the craft ever since. His signature piece was the cabinet-on-stand, and he made many throughout his career. Each one was an exploration of joinery, grain, and form. While this cabinet is definitely an ode to Krenov, my aim wasn't to create an exact reproduction. Instead, I wanted to tackle the design challenges the form presents. I hope this article prompts you to try a case of your own, whether based on this project or by following your own muse.
I had a few goals in mind when working out the design. Like a lot of my work, my aim was a quietly interesting piece, rather than something that shouted too loudly. on a quiet piece, small details make a big difference. To that end, I made the joinery the star of the show. I also added some contrast by building the case and base in different woods. I chose ash and white oak because while they differ in color, each has very strong grain that complements the other. To further unify the different woods, I used riftsawn stock for each species. Its tight, straight grain kept the two woods from clashing, and helped to reinforce the lines of the cabinet. getting riftsawn stock required a different strategy for each wood. For the base, I started with an 8/4 flatsawn white oak board. I looked for a board with tight rings that dove at a diagonal at the edges. The base parts were taken from those edges, where the rings ran corner to corner and yielded tight straight grain on each face. For the ash case, I started with the widest flatsawn 4/4 boards I could find and ripped off the outer riftsawn sections to glue up for the case sides. I usually try to minimize glue-ups in case parts, but the straight grain of the riftsawn stock made for almost seamless joints, and the quiet grain was worth the effort.
For the full article, download the PDF below:
View PDF
Get the Plan
Printed and digital plans and a cutlist for this project are available in the Fine Woodworking store.
Buy The Plan