Wall Cabinet with Curves
A combination of old techniques and new machinery makes working with curves less painful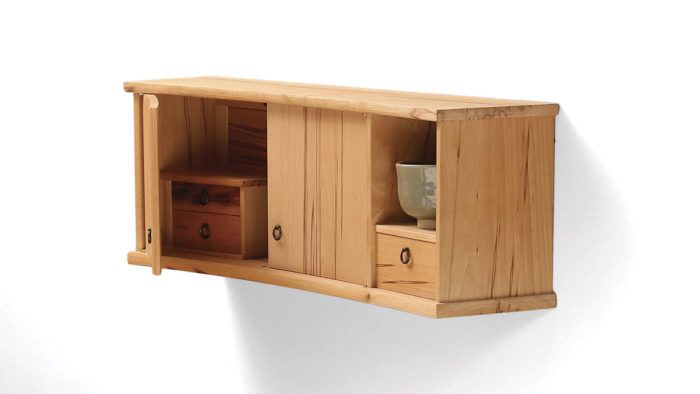 Synopsis: This wall cabinet has curved doors, tapered dividers, and an intricate frame-and-panel back, and it's those details that make it sweet. Clark Kellogg shapes the doors first, then builds the cabinet to match them, cutting curves in the top and bottom to fit the curves in the doors. Slip tenons or Dominoes are his joinery choice. The frame-and-panel back follows the lines of the cabinet, including the interior drawers, and adds a lot of interest.
This cabinet was my first big project as a student in the Fine Woodworking program at the College of the Redwoods. My inspiration was a cabinet-on-stand made by James Krenov, which I was fortunate to see in person. Although the cabinet is modest in size, I was struck by its subtle details, flawless proportions, and balanced exploration of form: a restrained exterior matched with a playfully arranged interior. So, when I was told to build something "small, simple, solid, and sweet," I built this little wall-hung cabinet, which I hope captures what I admired in Krenov's cabinet but expresses it in a slightly different manner.
There are a few elements of this cabinet that seem tricky— curved doors, tapered dividers, and an intricate frame-and-panel back—but building it is fairly straightforward. The carcase is joined with slip tenons, and the back is made with bridle joints and slip tenons. The doors, which are made from slabs of solid wood, have a subtle curve created with handplanes. A matching curve is cut into the cabinet's top and bottom.
I began with the doors rather than the cabinet, and there's a good reason for it. It's much easier to adjust the curve on the front edge of the cabinet's top and bottom to match the doors than it would be to adjust the doors to match the cabinet. The doors are made from solid wood, and because they are wider than they are tall, you might think that they could warp into pretzels or expand to the point of locking themselves shut. But don't worry. They're made from quartersawn boards (riftsawn works, too), so there's very little seasonal movement. Also, the doors are fully inset into the cabinet, which means that they don't need to lie flat against a frame. And the little warping that will occur won't be noticeable because both the front and back faces of the doors are curved.
For the full article, download the PDF below:
View PDF