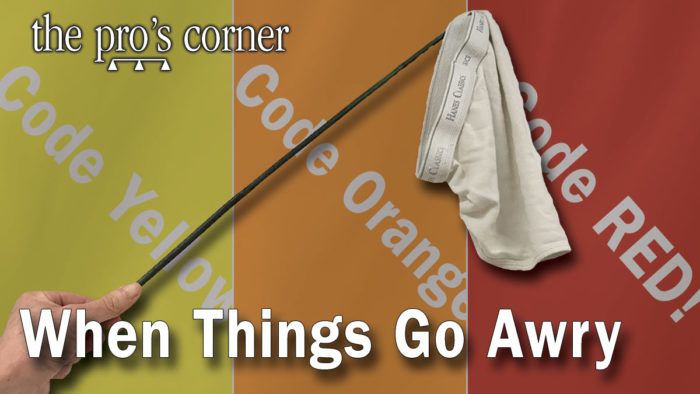 This is part two of Nancy's earlier Pro's Corner post: "5 Tips for Dealing with Difficult Clients"
Challenge code "Caution-Tape Yellow"
Even the most reasonable of customers can sometimes change their mind about some critical design detail (after you've started building), become grumpy after weeks of living with a makeshift kitchen while you take pains over the fit of every drawer, or jump down your throat when presented with a higher-than-expected bill (even if you told them at the start that you had no idea how much their bed or desk or mahogany toilet seat was going to cost and they said they didn't care, they just wanted you to do the work and trusted that whatever you charged, the piece would be worth it).
These are the times when we must remind ourselves that problems are challenges; they present opportunities to show what we're made of.
The key is not to hide. I mean, of course your first reaction is likely to be an overwhelming urge to stay in bed curled in a fetal position with the covers up over your head thinking please just make this go away. But when the craftsperson or contractor hides, customers feel disrespected. "He's gone AWOL," I've heard a customer say from time to time about someone else on the job.
Don't be that guy. Return that call. Write that email. And do so as promptly as you can bear to, even if you have to down a good swig of antacid (or a stiff drink) to get it done. Explain what you are able and willing to do to satisfy the customer, and be sure to state what, if anything, the additional work will cost in cases where it's the customer's job to cover the additional expense.
Challenge code "Scary-Jack-o-Lantern Orange"
Sometimes a customer just can't be satisfied, no matter how hard you try. I've experienced this on two occasions, each time with a person who was deeply uncertain about all kinds of decisions from the start, something I've learned to see as a red flag. A red flag is not in itself reason to abandon a prospect. I have had many customers who have trouble making decisions. Often they live alone and don't have a partner to support their choices (or alternatively, put the kibosh on them and substitute their own preference … which is ultimately helpful to all if it at least results in a decision). Try to be understanding, if only until it becomes clear that the customer may never feel comfortable with his or her decision to buy your work. (Thankfully this is a rare occurrence in my experience.)
I once built a writing desk to drawings made after careful discussion with my customer. I made a finish sample on the curly oak I was going to use, and she approved it. When she saw the desk in person, she said it looked like a patchwork. I had taken pains to cut the door panels out of the same piece of oak; I had run the top and bottom rails with the grain continuous from side to side. As I always do, I had taken care to arrange the boards (all of which were from the same tree) with care for a harmonious appearance.
To increase the uniformity of the look in response to her concerns, I applied several thin coats of tinted finish. She still was less than thrilled. I was starting to have visions of delivering the piece, taking payment, and being called back—the last thing a furniture maker wants to deal with. So I wrote to her, saying that I wanted her to be delighted with the desk and that if she wasn't, I would prefer to refund her deposit. That's what I ended up doing. I sold the piece to someone else, though for less than the full cost of the labor and materials I had invested.
Challenge code "Horns-Blaring-Fire-Engine Red"
The most challenging customer is that you-hope-only-once-in-a-lifetime individual who simply will not be pleased, due to some quirk of his or her psychological constitution. I'm referring to those who are determined to thwart the job, then blame you for the lack of progress … those who expect you to provide ideas, designs, or work without being willing to pay you for it … and those who attempt to switch the rules halfway through the job. Hence the importance of being clear and precise in your communication, keeping good records, and refusing—respectfully—to be treated as any less a person than you know yourself to be.
Extricating yourself from a "challenge code red" situation honorably so that you can get paid at the end is a real test of character. In some cases it's worth it; I recount such a tale in my most recent book, Making Things Work. It was horrendously stressful—even downright surreal—at times. It left me wondering whether I even wanted to continue operating my business. It certainly sharpened my red-flag radar. And it made me all the more appreciative of friends who are willing to lend an ear.
In other cases it may not be worth putting yourself through the wringer to see a job through to its end. This is what one successful, well-respected builder friend concluded about a project several years ago: His sanity was worth more than the nearly $10,000 he gave up when he conceded that he could not satisfy a particular customer for whom he had already reworked the job once.
Sometimes the best thing you can do in response to a red flag is wave a white one.
Nancy Hiller is a professional cabinetmaker who has operated NR Hiller Design, Inc. since 1995. Her most recent book is Making Things Work.