Video: Kids in the Shop – Shaker Step Stool
Watch the kids of Fine Woodworking build their own versions of a classic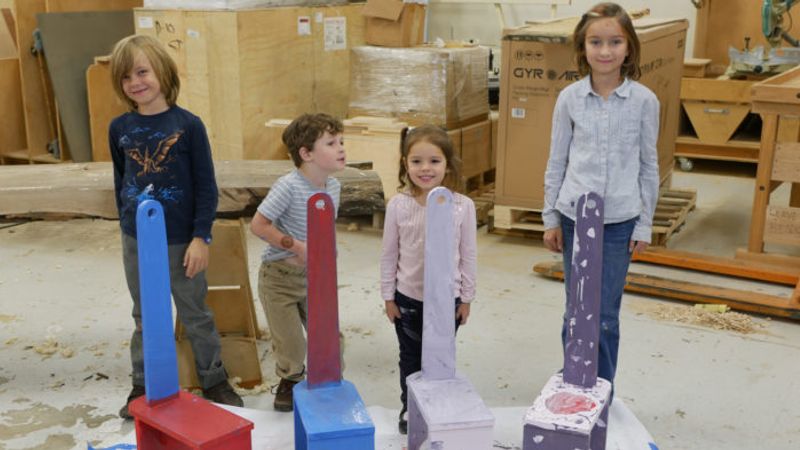 Video by Jeff Roos and Cari Delahanty, Edited by Cari Delahanty
A few months ago, I saw a beautiful step stool made by Christian Becksvoort in associate editor Anissa Kapsales's office, and I immediately wanted to build it.  My 4-year-old has hit the stage where the kitchen stepladder was too high for him and this single step stool would get him to the perfect height. Then the thought hit me: Why not make the step stool with my son? The stool has a through-mortise on one leg and dovetailed construction on the other. If I was going to ask a 4-year-old to take on the task, I thought I'd better stack the odds in his favor and simplify it.
Then it hit me again: Why not get a bunch of kids together and make a bunch of step stools? While we were at it, we could make a video and encourage everyone to get out to the shop with their favorite little ones. Everyone thought it was a great idea, including video manager Jeff Roos (even though it was a logistical nightmare for him). As you can tell in the video, all four kids, aged 4 to 9, had a blast—no meltdowns, not even from the grown-ups.
If you want to try something similar with your little ones, there are a few things to keep in mind.
Nobody knows your kids like you do. What is in the comfort zone for some might not be for others.
Before you set foot in the shop with kids, set some ground rules. Ben Brunick once told me his golden rule with kids in the shop is  "Push No Buttons!" and it sounds like a great start to me.
They're watching you, so when you're operating the machinery, set a good example.
No messing around while a machine is running.
Make sure you have a good ratio of children to adults. We had three adults and four kids—it worked great for us—but I could understand setting a rule that each kid needs to have an adult helping/watching.
Don't underestimate the "biting" power of hand tools. I once saw a kid nearly cut himself at a tool show clearing a shaving from the mouth of a spokeshave. Show them the blade and create a no-go zone for them.
Have extra parts on hand. It's likely someone is going to screw something up. If you have extra pieces, it's no big deal. I made up enough pieces for six step stools. In the end, it was just enough to get us through the day. It's way better to have too many parts than too few.
We didn't have the kids start the project from the top. I cut the parts to size and added the mortise in the step beforehand. If we had included the older kids they'd likely have been fine for the whole build, but when you throw two 4-year-olds into the mix, it seemed best to take out some variables. Again, you'll know what's best for your kids, but in my opinion, it's better to leave them wanting more at the end of the day than have them be bored or frustrated because there is so much work to do.
If you'd like to build this step stool with some little ones, there is a free set of printable plans available here.