Letters: An unfinished outfeed table
Jim Dugan and his grandson make an outfeed table and plant the seeds of a future woodworker.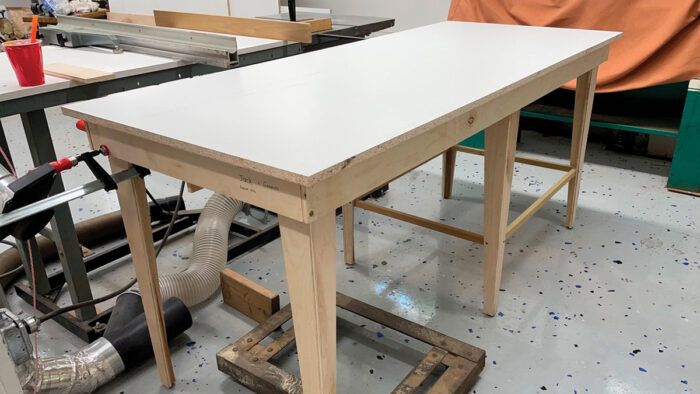 This is not a novel shop tip, it is just a simple outfeed table for my tablesaw. What makes it unique is that my 5-year old grandson, Jack, was my shop helper on the build. Many activities in life that we pursue as adults—cooking, fishing, golf, gardening—were often handed down to us when we were young. I learned to use tools from my dad; he learned from an older brother-in-law. My son-in-law is a good husband and dad, but truth be told, my daughter is the do-it-yourselfer in the family. If Jack is going to learn about woodworking, then I am the likely conduit.
Jack and his two younger siblings came to visit my wife and me for the month of August. Even as a toddler, Jack was my shadow on home projects. A bit older now, Jack has a longer attention span and more of an interest to learn.
So off and on during the month we worked on the outfeed table from planning to fabrication. Safety was paramount. Machinery was unplugged or breakers turned off and Jack wore his safety goggles and ear protection when needed. He'd help spread glue, stack cut boards, hold a tape measure, and take the last few whacks with a hammer on the finishing nails. I was trying to set a good example, so we would put away tools and clean up after each work session—something I am not always religious about. Jack enjoyed brushing the workbench and handling the push broom like a bulldozer.
This was not a quick project. The processes you and I zip through in seconds took minutes to explain to a 5-year-old. And then there are the questions… and more questions. Which is just fine. Learning to use a Speed Square, he asked "Why is it called a square when it's shaped like a triangle?" Fair question, but my answer was lacking. At the end of the month, my daughter, her husband, and the children left for their six-hour drive home. The outfeed table was not finished but the most important parts were—the memory and maybe the seed of another woodworker planted.
—Jim Dugan, Easton, Md.
From Fine Woodworking #294
| | |
| --- | --- |
| | |
| | An outfeed table with an adjustable top lets you quickly re-level the surface to match the saw's height. |
| | With a big top and vise, this easy-to-build table gives you more space to work. |