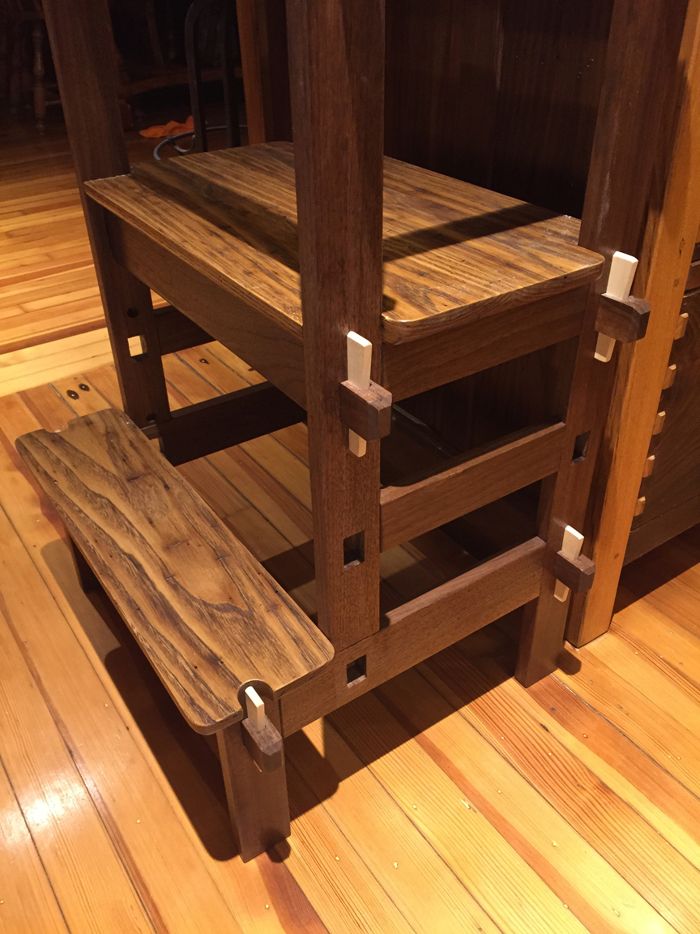 My wife loves to cook and bake, and whenever she starts to get out a large bowl, or even walks near the mixer, our 18 month old daughter excitedly starts saying "Cook-cook!" She really wants to help. She makes sure you know with a very persistant "Upplease", "Upplease", "Upplease". My wife found a great solution online – an adjustable height step stool called a "Learning Tower". There are a few versions you can find, but I wanted to make a more compact model that can be stored when not in use.
The construction is all mortise and tenon joints for the two side panels, and through tenons on all the rails. Tusk-tenons are tapped out to disassemble, or to move the platform height. Round tenons on the platform and step lock in place at the desired height as the sides come together. It's mostly made of walnut, with a chestnut step, platform and dowels at the top. The wedges are maple. I'll include a plan if anyone would like to make one.
It's a big hit with our daughter to say the least. She loves mixing, pouring, pretend chopping and adding everything possible to what's being made. The last batch of scones had cumin instead of cinnamon, but they were actually pretty good, and it's so fun to watch her excitement!
Wedges pop out and the platform can be moved between three different heights.
Round tenons lock in place to hold platform at desired height.
A small cutout on the step allows the front wedge to be tapped in.
Handle cutouts at the top of each side make it easy to pick up and move around.
At 36 inches tall, the "Upplease" sits about even with standard counter heights.
After cutting the angle for the wedges at the bandsaw, they can be planed together to a consistent shape.
An angled wedge on the mortise machine's table simplifies the angled cut of the rail mortise.
Dowels were turned on a lathe a bit oversized and then hand-planed to fit.
The "Upplease" in action!
The shoulders for the rail tenons were first cut at the tablesaw, and then cut to final height at the bandsaw.