Calculating for Wood Movement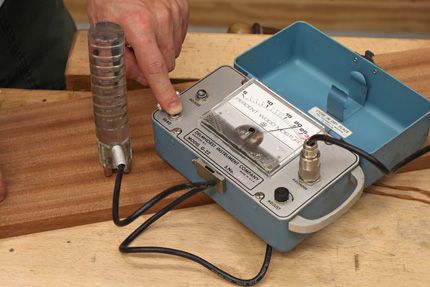 For far too long now, I've gone about building my furniture and using what amounts to voodoo science and guesswork to account for seasonal changes in humidity that cause captured panels (be they drawer bottoms, inset drawer fronts, or cabinet backs) to swell or shrink depending on the season. That lack of science in my methodology resulted in a beautiful dovetailed cherry cabinet breaking apart when its pine cabinet back got a bit too big for it's britches-er case sides-this summer. This was the first time that my efforts at "guesstimating" a panel size for seasonal changes resulted in a failure and I don't want a repeat of the event.
I've been nursing that wound for several weeks now, and still haven't gotten around to fixing the case. In the meantime however, I was lucky enough to have run the camera for Chris Becksvoort's class at Fine Woodworking Live 2013 titled 40 Years of Woodworking Tips. One of the topics covered by our resident Shaker expert was calculating panel widths to account for wood movement. After the class, I decided it was time to up my game and incorporate a bit of science, and some basic math, into my woodworking skillset-please don't ask me why I didn't do this earlier in my career.
Finding a Moisture Meter
Confession: I'm a big fan of simple, old-technology tools, meters, and such that are made of metal and not chintzy plastic. During Chris' seminar I noticed he was using a rather old Delmhorst G-22 moisture meter that was built like a Sherman tank. Nowadays, most meters are built of plastic-a lot of them are simply set atop the wood and the reading is taken directly from the surface. The older units like the G-22 used probes that are hammered about 5/16-in. into the wood. It just seems to me that this would yield a much more accurate reading. So I sprung for a G-22 on eBay for a whopping $32. That's a heck of a deal on a meter that was a great deal more expensive than that when it was new. By the way, Delmhorst still makes a variety of meters with penetrating probes.
Putting the Meter to Work
Now to the science. Just how do I plan to incorporate a moisture meter into my woodworking? I consulted Chris' article titled Stop Guessing at Wood Movement from issue #187. The article is clear, concise, and easy for the layman to understand. In fact, I've taken it upon myself to dub this the Ultimate Solution for Wood Movement. Here are the basics:
For the purposes of this demonstration, let's assume we're trying to determine the final width of a flatsawn red-oak drawer front in the winter, in New England. Using my handy-dandy meter, I determine the moisture content to be 6%. The next number we need to know is a worst-case scenario moisture content (who knows where my furniture might end up in the future!). Chris tends to use 16%MC as his worst-case baseline. 16% minus 6% equals a 10% variance.
There's one last number we need to calculate our final drawer width-the "movement value." This number can be obtained by consulting a Wood Movement Reference Guide or by using the simple table included in the original article (see below). For flatsawn red-oak, the value is .0037.
Now we multiply those three values together. IE: [.0037 x 8 x 10] = .296-in., which is roughly 5/16-in. Therefore, my drawer fronts should be cut to a width of 8-in. minus 5/16. Final drawer front and side widths: 7-11/16-in.
Wood Movement Values Chart
This simple chart ought to be enough to get you started with regards to calculating movement for a variety of the most common wood species encountered by craftsmen here in North America.
As stated in Chris' article from 2006: If you'd rather not buy the guide, you can use this chart to obtain the movement value for various species. The formula and abbreviated chart are adapted from the Wood Handbook, published by the U.S. Department of Agriculture, Forest Products Laboratory. For the complete chart listing more than 120 species of wood, go to the Forest Products Laboratory website.
Ready to Work
This autumn I'll be constructing a rather large white oak built-in at my home. You can be sure I'll be putting these simple techniques to use as I size door panels and drawer parts. Never again will I invest hours upon hours in a project, only to find it "busted into oblivion" by the time summer arrives!