Help Complete the Vision of George Nakashima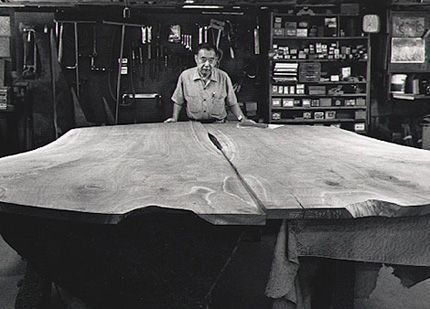 New Year's Eve 1986 was a particularly auspicious one for George Nakashima. The celebrated woodworker's vision to transform a massive tree into a symbol of peace-which had begun three years earlier on a Long Island estate-had finally come to fruition. Before an audience of about 5,000 people, Nakashima, then 81 and still going strong, arrived at New York City's Cathedral of St. John the Divine for the consecration of his first Altar for Peace. The massive heart-shaped slab of black walnut had been felled on Long Island, milled in Philadelphia, dried for two years, and shaped over the course of some two months. Back in 1986, Nakashima was quoted by the New York Times as remarking that the altar was meant to serve as a "tangible" symbol of peace-"if we can contribute something to the stability of this world, it would be fulfilling." 
From the original Altar for Peace (photo-R) was born the idea for the Sacred Peace Tables: "consecrated by clergy, and aspiring to peace among peoples joining the American, European, and South Asian continents." Today, more than 20 years after his death, Nakashima's work goes on, managed by his daughter Mira. The next Sacred Table scheduled for construction will eventually reside at the Desmond Tutu Peace Centre in Cape Town, South Africa. The Sacred Peace Table project is a costly, time-consuming endeavor. Sourcing the material, constructing the table, and shipping it halfway around the world will require an enormous sum, and two upcoming events are meant to help offset those costs. But take heart, even if you can't attend either of these events, you can still help. The Nakashima Foundation for Peace is accepting tax-deductible donations via its website.
Read on for information on two upcoming fundraising events chock-full of woodworking demos, music, and more!
Two Ways to Assist in the Peace Altar Effort
Pennsylvania Hardwood Dealer to Auction Slabs
In a bid to support the Nakashima Foundation's efforts to construct and ship a Peace Table to the African continent, local hardwood dealer Hearne Hardwoods will host several silent auctions and raffles in conjunction with its annual open house, held Friday October 5, 2012, through Saturday October 6, 2012. Of particular interest will be two sizable black walnut logs slated for sawing at the event. One of these logs will go up for silent auction (bidding starts at $300), to benefit the Nakashima Foundation for Peace. The second log will benefit another worthy charity, The Moringa Community School of Trades.
---
JOIN THE EFFORT
---

The Nakashima Foundation for Peace is currently accepting tax-deductible donations to fund the Sacred Peace Table project. 
---
Once again however, you don't have to be in attendance to participate. Two 30-in. wide by 10-ft. long sapele planks will find a new home during the event. These planks will be offered up via raffle (tickets are $20 a piece). You can purchase tickets over the phone by calling (610) 932-7400, or by attending the event in person. A total of 200 tickets are available, and any tickets not sold online (online sales close a day ahead of the live event) will be sold at the door on Friday and Saturday, so be sure to act quickly! Much like the black walnut logs slated for sawing at the event, one sapele plank will benefit the Nakashima effort, while its mate will benefit the Moringa Community School of Trades, in Africa. Visit the Hearne Hardwoods site to purchase raffle tickets and learn more about the event. 
For those folks lucky enough to be able to attend the event live and in person, the weekend looks to be chock-full of a variety of vendors and display booths featuring presentations by the Philadelphia Furniture Workshop, the Society of American Period Furniture Makers, Lie-Nielsen, and more!  
Visit the Hearne Hardwoods website for the entire event lineup. 
Nakashima Foundation to Host Benefit Peace Concert
On Sunday, November 4, 2012, the Nakashima Foundation for Peace will host a benefit concert at the Nakashima Studios at 2pm. The event will feature singer/songwriter Pam Ortiz and will include a performance of the "Story of the Wood," an original composition performed at a concert honoring George Nakashima to help send off the second Sacred Peace Table to Europe in 1999.  
You can reserve your spot for a $50 donation to the Nakashima Foundation for Peace. RSVP at [email protected] or call 215.862.2272  
The event will be celebrated at the Nakashima Arts Building, 1847 Aquetong Road – New Hope, PA  
But remember, you don't have to attend the event to help support the Peace Altar effort. Any contribution, no matter how small, will make an impact on raising the tens-of-thousands of dollars required to bring this latest chapter in the developing project to fruition.  
I won't sugar-coat this: these are tough economic times, yet if the woodworking community can come together to help complete the journey that George Nakashima began more than 30 years ago, perhaps that-in and of itself¬-would be the best reflection of his yearning to contribute something to the "stability of this world."
Launch of a dream. George Nakashima with his first completed Peace Altar in 1986.
Carrying on a family tradition. Mira Nakashima (2L) looks on during the sawing of a massive slab at the 2011 Hearne Hardwoods Open House.
One serious slab. Last year's open house event at Hearne Hardwoods featured the sawing of one gargantuan English walnut slab.