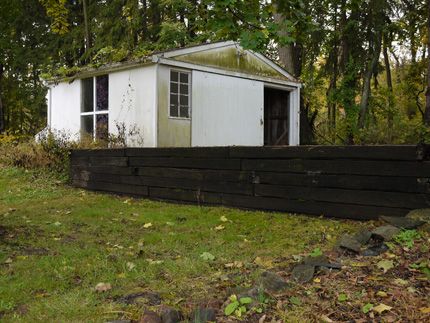 The Soul of a Space
There's just something about the dusty spaces that once played host to historic events or-in this case-the creation of groundbreaking furniture designs, that jumpstarts my imagination. When I was a kid, the Hunterdon County Courthouse, site of the Lindbergh kidnapping trial, was one of them. More recently however, I found myself in one of George Nakashima's old garage workshops in New Hope, PA, and was pleasantly surprised when I realized that even Mr. Nakashima was relegated to a small garage shop–at least for some part of his vaunted career.
While shooting a video with daughter Mira this past winter, we decided to hop in the car and grab some footage of what had been her father's shop in the late 1940's. Shortly after relocating to New Hope near the end of the Second World War, Nakashima had rented a small home on Aquetong Road that included a humble detached garage. The house, and the garage, are still there–albeit uninhabited. And if you look closely at vintage photos of the shop and compare them to a quick snapshot I took during my visit, you'll note that not a whole lot has changed.
Today, the little garage is largely derelict. Covered in moss and in need of repair, I doubt it will exist for much longer. That said, there's something about the aura of the place and its connection to the past. This humble space, and the little milkhouse that served as Nakashima's very first New Hope workshop, were the site of the craftsman's initial transformation from a trained architect, to a unique furniture designer and craftsman. And although the moldy garage shop on Aquetong Road may be on its last legs, the efforts of the artist who once plied his craft within its walls have been carried on into the 21st century by a dedicated daughter.
On a beautiful spring day in April, the Nakashima Studio hosted an Earth Day Concert for Peace that also served as a fundraiser for the studio's efforts to complete the vision of its founding father. I asked Mira Nakashima to sum up the event. What follows is her report for FineWoodworking.com.
Earth Day Concert for Peace

Mira Nakashima – New Hope, PA
After months of preparation and weeks of worrying about the weather, two teams of landscapers, the staff of Nakashima Woodworkers, family, Foundation and friends came together in a gentle confluence of sunshine and blossoming trees, to celebrate Earth Day with music by Pam Ortiz and her band on the 21st of April. We came together not only to raise funds for continuing George Nakashima's dream of creating Peace Altars for each of the continents of the world, particularly the Desmond Tutu Peace Centre in Cape Town, South Africa, but to assure that the legacy of Nakashima's architecture and furniture collection will be preserved for many generations to come.
For the first time ever, at the suggestion and coordination of Board member Julian Lines, we consigned a small table to an on-line E-Bay auction and did so well we may try it again in the future. Our first-ever silent auction manned by Barbara Simmons contained a donation from the Russell Wright Foundation, a Russian lacquer box containing flower petals from our ceremonies in Moscow donated by Irene Goldman, and a Nakashima tour of New York City donated by Miriam Belov, while publicity, list-checking and fees were graciously handled by Katherine Kish. Freshly designed and hand-printed T-shirts created and donated by the students of South Hunterdon Regional High School to commemorate Pam Ortiz' "Song of the Wood" and George Nakashima's "Soul of a Tree" were offered to those attending. Madame Lu, wife of the Chinese Ambassador to the UN, came to visit and was so appreciative of the Nakashima environment that she requested a special private tour of the property following the concert!
An afternoon filled with blossoms, good friends, food and music was enjoyed by all, and the Nakashima Foundation for Peace is another step closer to financing the building projects for both Auroville, India and Cape Town, South Africa!
For more information, please visit the Nakashima Foundation.
And to listen to Pam Ortiz' "Song of the Wood," which was performed live at the event, use the player below.
http://bandcamp.com/EmbeddedPlayer/v=2/track=2986387503/size=venti/bgcol=FFFFFF/linkcol=4285BB/
The detached garage workshop used by George Nakashima in the late 1940's.
Fine Woodworking senior editor Jon Binzen pokes around the interior of the old workshop.
George Nakashima at work in the garage workshop on Aquetong Road.
Jon Yarnall (2L), of George Nakashima Woodworker S.A., gathers with Madam Lu Hailin (3L), and others on the grounds of the Nakashima Studio.
Mira Nakashima (L) gathers with musicians Philip Dutton (2L), Ford schumann (3L), Pam Ortiz (4L), Bob Ortiz (3R) and Madam Lu Hailin (4R), wife of China's ambassador to the United Nations, Li Baodong.
Mira Nakashima (C) delivers remarks as musicians (L-R) Philip Dutton, Pam Ortiz, Ford Schumann, and Bob Ortiz look on.
George Nakashima's original Peace Altar is delivered to St. John the Divine on a 40-ft. flatbed truck in 1987.
With flowering trees in full bloom, April 21st was the perfect day for an event at the Nakashima Studio.