Shooting a FWW article with NBC's Nick Offerman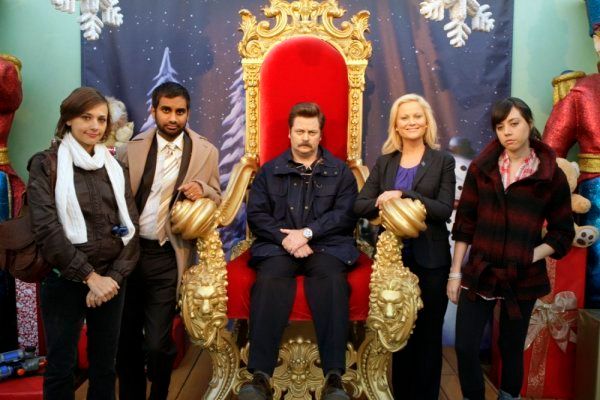 FWW occasionally runs across a celebrity who is also a true-blue woodworker, and we usually jump at the chance to show our readers how even the rich and/or famous can catch the bug. But until now, I have missed out on every one of these photo shoots. Jimmy Carter, Andy Rooney, William H. Macy, I missed my chance to rub sawdusty shoulders with each one.
Then the Martha Stewart show called, asking me to say a few words at the top of a special episode dedicated to woodworking. And there I met Nick Offerman, star of NBC's hit comedy Parks & Rec. As I watched him make a canoe paddle and crack wise with Martha, I quickly saw that he was a real-deal woodworker, and a skilled teacher to boot. Already a fan of his show, I was tickled. Then, during a commercial break, a producer told me that Nick had to leave but that he was dying to meet me. So they snuck me backstage during the show, where Nick said he was a FWW worshipper and was star-struck to meet me! Ridiculous, I told him. Before he left, he told me he would be willing to do ANYTHING for his beloved magazine. So we traded contact info and vowed to try to cook something up together.
The first thing I decided is that I was taking this assignment. As an admitted comedy nerd (I love all forms, from TV to movies to standup–done well), this was the chance of a lifetime. So Nick and I started e-mailing, trying to figure out what the article would be. Neither one of us wanted it to be simply: "Look, a celebrity woodworker!"
Nick is a professional furnituremaker, who built stage scenery for many years, before catching the fine woodworking bug and beginning to make Nakashima-style tables for sale in LA. That led to his current shop, and a part-time staff of four. And along the way, he invented a wonderful router jig for quickly leveling big slabs. Bingo, we had our article, with an idea so good we would have run it if Nick were a celebrity or not.
So that's where I spent this past Thursday and Friday, hanging with "Ron Swanson," getting to try out my own wisecracks on a pro as we spent two dusty days together at his shop's undisclosed LA location (don't tweet the address, Nick quipped). Turns out he is a real mensch, maybe the most down-to-earth guy in Hollywood, and after the third bear hug I stopped seeing him as that guy on TV, but just another guy who loves woodworking.
You'll see his jig in issue 222, and read his fascinating story that starts on a farm in Illinois and ends with his first job on a successful TV series, at age 38. And you'll get to see my video interview/shop tour with him on FineWoodworking.com. Hope these are as fun to read and watch as they were to make. Like Nick says about himself, I'm a lucky guy.
Nick Offerman plays Ron Swanson, seated uncomfortably on the throne, on the NBC Thursday-night comedy, Parks & Rec.
This is me and Nick outside his woodworking shop on June 3. Another sunny day in LA.
Here's a photo that might end up in the article. The router jig is great, allowing Nick to level huge slabs in a fraction of the time it used to take with a power planer and belt sander.
Nick Offerman is happiest in his woodshop, "doing an honest day's work."
Nick paid his dues for 20 years before landing a big series and a wildly popular character. Lucky boy. By the way, his other woodworking passion is building canoes and kayaks.
Here's a finished canoe. The coves and beads between the cedar strips create tight joints and allow the hull to be made very thin. The whole boat weighs 50 lbs.
His shop has plenty of natural light, and plenty of room for Nick's stockpile of big slabs and stumps.
And here is Ron at a fair, holding a huge turkey leg wrapped with bacon, called "The Swanson" in his honor.