IWF also puts an emphasis on design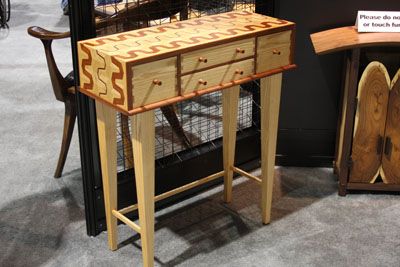 Design Emphasis is a furniture design competition sponsored by the International Woodworking Fair (IWF), where student projects are judged on their design, manufacturing, marketability, and craftsmanship. There are five categories: seating, case goods, commercial/office/hospitality furniture, accent furniture/accent tables, and design creativity. Before the show, students submit photos and descriptions of their projects to judges who run the gamut from industry designers, trade executives, and members of the press. There's $12,000 at stake, and prizes are awarded in each category.
There were some great pieces on display this year (check out the photos of pieces we liked). Here are the winners:
Seating: Josh Goldstein, Kansas State University
Commerical/office/hospitality: Samantha Mallard, Haywood Community College
Accent furniture/tables: Brandon Skupski, Haywood Community College
Design creativity: Ini Archibong, Art Center College of Design
Case goods: James Ellis, Western Piedmont College
Table by Dave Freeman, Herron School of Art and Design
Hall table by Jake Blok. Nice use of stainless steel.
Leather-upholstered lounge chair by Mo Chiang.
Steven Sander sits on his cherry stick bench, which is basically a bunch of same-size cherry pieces that sit on a bed of foam. The result is a very comfortable seat, with lots of give.
Steven Sander's cherry stick bench creates a wooden cushion of sorts. It is unexpectedly comfortable.